Flamenco guitarist Gino D'Auri lives on in my heart, my soul and my music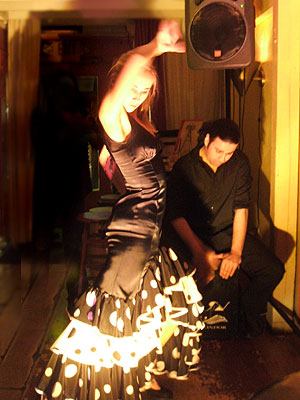 At Cafe Citron: Mariya dancing soleá with Jason on cajón. February 12, 2007 10:03pm (photo by Ronaldo)
It's 10:48am on Tuesday as I type these words. This is going to be a one pic blog today. Got lots to do and the snow is not helping much--I mean it's not that bad, but I just want to finish up my personal errands so I can spend the rest of the day chillin' out. Perhaps I'll go check out a movie this afternoon. Plus I just heard that my show tonight at Las Tapas is cancelled because of the snow which kinda sucks.
I mean, yeah half of the time, the people there don't pay attention to the show even though I'm performing with the best flamenco dancers in DC. But I still have a good time and I need my flamenco fix!
I can remember 10 years ago, I was performing at El Bodegón restaurant in DC (it's now closed). There would be seatings at certain times for the customers like 7:00pm, 8:00pm and 9:00pm. When everyone was served dessert, the maitre d' would dim the lights and walk up to the microphone and in a very classy way would introduce the show. Perhaps people in general (not just limited to Americans) are less cultured and have worse manners than decades ago, but the audience we had 10 years ago was for the most part very respectful and I felt that we had their attention for the duration of the show. I mean, I'm not expecting everyone to love us and I realize that a restaurant is not the Kennedy Center, but at least they should have the decency to be quiet enough so that others can enjoy our show.
Anywayz, last night at Cafe Citron was a lot of fun (90% of the time I have a blast there, but we all have our bad nights). If you've been to Citron, you are familiar with the layout which is very narrow and long. So that when we set up the stage at one end of this place the space where people can stand or sit to see the show is very limited. So people literally crowd around the stage. When there are enough people, it feels like we're playing at a private party with all our friends gathered around giving palmas and jaleo. And it so happened we did have a lot of friends last night some of whom got up to dance some Sevillanas. We normally do two shows and when the DJ comes in at 10:00pm, I pack up my sound gear and hang out with my friends. But this time we had a few people requesting a third show! But I already had half of my equipment broken down and my dancer Mariya was already changed. Just performing for ourselves is pretty satisfying on its own, but it's also nice to be appreciated by our audience.

Just heard that flamenco guitarist Gino D'Auri passed away January 29th. You probably don't recognize the name, but it has special significance for me. I bought a recording of his titled "Passion Play" in my senior year in college when I first got involved in flamenco. At the time, there was this very beautiful girl, Isabel Montes, that I was hanging out with a lot at Cal State Fullerton and she happened to be a flamenco guitarist and she was practically my first teacher. So I listened to Gino D'Auri's "Passion Play" a lot back then and occasionally when I listen to that recording today, I'm transported back to all those good times in college. To give you an idea of his music, here are a few sample tracks.
While I lived in the Los Angeles area, I saw him perform a few times at El Cid restaurant in Hollywood. He was accompanying a dancer friend of mine, Lorinda, that I knew from the Blanca Luz dance academy in Buena Park (Southern California) where I got my first start in accompanying dancers. I also saw him accompany singer Chinin de Triana at a guitar festival in Northridge.
I never actually met Gino but it doesn't really matter. He touched me emotionally with his music and continues to inspire me today. Now that I'm a performer, I'm in that same position to inspire others although I'm not famous yet (well maybe a little
) but I still occasionally meet people who tell me that I inspired them to start learning guitar, or start taking flamenco dance classes or go to Spain or that I just made their night special. It's a cool feeling being able to touch people in this way. Thank you Gino. You will live on in my heart, my soul and my music!
« Flamenco night at Tapeo. February 10, 2007 | Main | Hanging out with Joaquín Grilo, Isabel Bayón, La Moneta, Manuel Liñán, Olga Pericet and Marco Flores »