Flamenco concert at Virginia Commonwealth University. January 28, 2007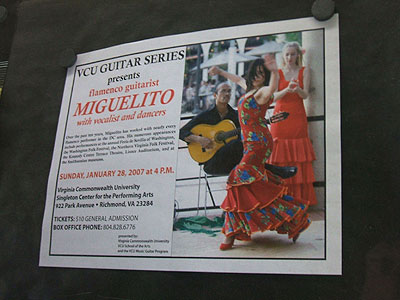 VCU flamenco concert flyer with photo by Niko Alexandrou. January 28, 2007 2:23pm
It's almost 2:00pm on Monday as I type these words. Got a lot of catching up to do on my blog, but I think I'll take the Tarantino approach and go back in reverse chronological order starting with yesterday's flamenco performance at Virginia Commonwealth University.
I'm an experienced performer so I can usually pull myself together and put on a good show no matter what, but I was especially impressed with myself this time considering I only had four hours of sleep:
On Saturday night the Sala Rociera flamenco party went on, as expected, until sometime after 3:00am. Tons of fun of course, but it was important that I got at least of few hours of quality sleep. Of course, I ended up going to bed around 4:00am. My alarm clock went off at 8:30am, but couldn't get myself out of bed right then so I pressed snooze a few times and finally got up at 9:00am, did a few personal errands and tidied up the studio (there was an Argentine tango dance class scheduled here at 2:00pm!). And then at 11:30am, I met up with dancer Ginette to drive down to Virginia Commonwealth University (in Richmond), a two-hour trip, in time for a sound-check and run-through of the concert program.
Of course, despite our well-laid plans, we all arrived a bit later than expected, so our sound-check and run-through time was cut short. But then again, I frequently perform with singer Gerard Moreno and dancers Ginette, Mariya and Shahram Tehranian all the time. So we only had to refresh our minds with a few tricky spots between the music and choreography, acclimate ourselves to the performance space and calibrate the sound...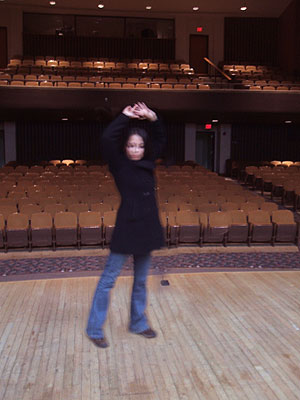 View from my chair as dancer Ginette tests the floor. January 28, 2007 2:28pm
We were graciously welcomed in the theatre lobby by my longtime flamenco guitarist friend Charlie Moeser and John Patykula, assistant department chair of the School of Music at Virginia Commonwealth University. Turns out I referred John to other DC area flamenco artists over the years, thanks to my website.
The Singleton Center for the Performing Arts is a wonderful place to perform. They have the highest quality equipment from the Mackie SRM450's for the stage wing monitor speakers to the Neumann KM184 condensor microphone for my guitar to the Shure Beta 58 microphone for the vocals. Top-notch stuff! Plus we had a very professional technician/engineer at our service, Curt Blankenship, who also did double-duty by operating the lights. Not that we had any complicated lighting cues, but he did a couple of artistically-executed fades throughout the show.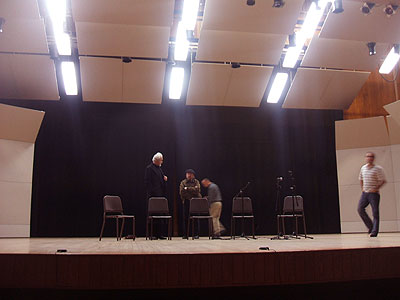 View of the stage from the first row as singer Gerard Moreno and dancer Shahram Tehranian arrive. January 28, 2007 2:29pm
It was already around 2:30pm when the entire cast had arrived. We still had do a sound check and a quick run-through before the house opened up at 3:30pm, not to mention chilling out for a bit to recover from the two-hour trip from DC. Thank God we stopped at a 7-11 on the drive down to Richmond. We got a few delicious snacks, bottles of water etc--you never know where you'll be able to find food on a university campus on a Sunday afternoon. TIP: always take along some snacks before you drive down to another city for a performance. Putting on a concert is stressful enough that you don't need the extra pressure of trying to find a place to get a bite to eat half an hour before the show!
Here's a pic of the floor microphone used in the show. We had three of them evenly spaced at the edge of the stage. Usually I see the Crown PCC160's used in most flamenco shows in large theatres. Not that it's necessarily the best, but at least I know what to expect when PCC160's are used. Didn't have time to really check the floor mikes as much as I wanted. But judging by Curt's choice for the vocal and guitar microphones, I knew he'd get a good sound for the floor mikes.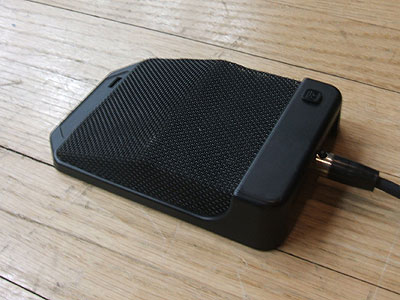 Floor microphone: Crown PCC170SW/SPP. January 28, 2007 2:40pm
We got through the soundcheck and run-through with some time to spare. I still needed to prepare myself for the guitar solos in the opening half--this was a guitar-centric audience so I know they were going to be listening with a very critical ear. Not that it made me nervous--actually I very happy to have guitarists in the audience because I knew they'd appreciate my playing even more. I just wanted to give them the best performance I could. Given the fact that I didn't get that much sleep and had just arrived at the theatre after a two-hour drive, I wasn't in the ideal physical and mental state I'd want to be in right before an important performance. But hey, this is real life and things don't always go as planned. I did my best and squeezed in some quiet time backstage before going on...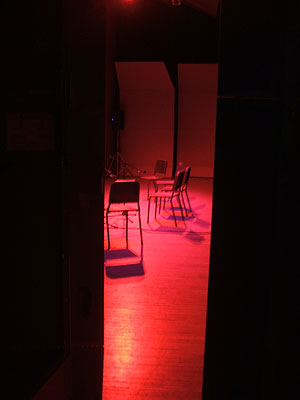 View from the stage wing, minutes before I walked onstage to to play my opening guitar solo. January 28, 2007 3:52pm
My strategy: since I did all the practicing I could do to prepare myself physically beforehand, all I could do at this point is relax and allow myself to drift off into my own musical world. Of course, it helped that the lighting that I requested helped set the mood.
TIP: given the special requirements of flamenco performances it's an excellent idea ot have a well-thought out technical rider. Just for fun, take a look at Paco de Lucía's.
According to John, we had an audience of about 300 (which is about triple the typical number of people attending other concerts in the guitar series here at VCU). Of course, I do have a reputation thanks to my website, but I have to give credit to my photographer friend Niko Alexandrou whose fabulous photo was used in the publicity campaign and no doubt convinced a lot of people to come to the concert. Thank you Niko! Thanks also to Tiffanie Chan, director of marketing for the VCU Music Department for getting the word out.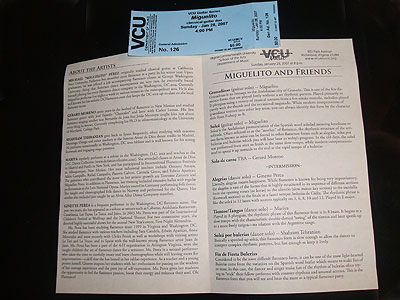 The program. January 28, 2007
Unfortunately, I didn't get any pics during the show. But here's the program...
Granadinas (guitar solo)
Miguelito
Granadinas is an homage to the Andalusian city of Granada. This is one of the few flamenco forms that are played freely without a set rhythmic pattern. Played primarily in B-phrygian using a variety of musical textures from a five-stroke tremolo, melodies played purely with the thumb and the occasional rasgueado. While modern interpretations of granadinas venture into other key areas, you can always identify this form by the characteristic slide from F# to B.
Soleá (guitar solo)
Miguelito
Soleá is the Andalusian pronunciation of the Spanish word soledad meaning loneliness or solitude. Often referred to as the "mother" of flamenco, the rhythmic structure of the serious form known as soleá can be found in other flamenco forms such as alegrías, soleá por bulerías and bulerías which you will hear later in today's program. In the old days, the soleá was performed from start to finish at the same slow tempo, while modern interpretations tend to speed it up towards to the end at the rapid tempo of a bulerías.
Solo de cante TBA
Gerard Moreno
INTERMISSION
Alegrías (dance solo)
Ginette
Literally, alegrías means happiness. While flamenco is known for being very improvisatory, the alegrías is one of the forms that is highly-structured in its sequence of different sections from the opening verses (or letras) to the silencio (slow minor key section) to the escobilla (footwork section) to the finale at a faster tempo: bulerías de Cádiz. The rhythmic phrase is like the soleá in 12 beats with accents typically on 3, 6, 8, 10 and 12. Played in E major.
Tientos/Tangos (dance solo)
Mariya
Played in A phrygian, the rhythmic phrase of this flamenco from is in 8 beats. It begins at a slow tempo with the characteristic double-dotted "swing" of the tientos and later speeds up to a more lively tangos—no relation with the Argentine tango.
Soleá por bulerías (dance solo)
Shahram Tehranian
Basically a speeded-up soleá, this flamenco form is slow enough to allow the dancer to interpret complex rhythmic patterns, but fast enough to keep it lively.
Fin de Fiesta Bulerías
Considered to be the most difficult flamenco form, it can be one of the most light-hearted. Bulerías come from the variation on the Spanish word burlar which means to make fun of or tease. In this case, the dancer and singer make fun of the rhythm of bulerías often trying to "trick" their fellow performers with counter-rhythms and unusual accents. This is the flamenco form that you will see and hear the most at a typical flamenco party.
---
Michael "Miguelito" Pérez originally studied classical guitar at California State University, Fullerton but stumbled upon flamenco at a party in his senior year. Upon graduation, he was offered a job accompanying flamenco classes at the George Washington University. Being that flamenco dance accompanists are very rare, he eventually found himself playing for every flamenco dance company in the Washington DC area. Currently Miguelito performs five nights a week in various venues in the metropolitan area. He is also well known for his website DCFlamenco.com that keeps the DC area up-to-date on the local flamenco scene.
Gerard Moreno spent years in the hotbed of flamenco in New Mexico and studied flamenco guitar with Jos&:acute; Fajardo "Chuscales" and later with Carlos Lomas. His first flamenco singing teacher was Bernardo de Jerez but Jesús Montoya taught him just about every thing he knows. Currently completing his PhD in ethnomusicology at the University of Maryland, College Park.
Shahram Tehranian goes back to Spain frequently often studying with maestro Domingo Ortega and other teachers at the famous Amor de Díos dance studio in Madrid. He performs occasionally in Washington DC area tablaos and is well known for his strong footwork and engaging stage presence.
Mariya regularly performs as a soloist in the Washington, D.C. area and teaches at the D.C. Dance Collective (www.dcdancecollective.com). She attended classes at Amor de Dios in Madrid and Fazil's in New York, and has participated in International Flamenco Festivals in Albuquerque, New Mexico. Her most influential teachers include Omayra Amaya, Adela Campallo, Rafael Campallo, Pastora Galván, Carmela Greco, and Edwin Aparicio. The guitarists who contributed the most to her artistic growth are Torcuato Zamora and Miguelito Perez. In addition to Flamenco, her training included extensive ballet with regular performances at the Lviv National Opera. Mariya toured in Germany performing folk dance. She taught and choreographed folk dance in Norway and performed for the Queen. Her studies also included jazz taught by an Alvin Ailey Dance Company member.
Ginette is a frequent performer in the Washington DC flamenco scene. The past two years, she has appeared as a soloist at venues such as Cabanas, Andalusia Restaurant, Casablanca, Las Tapas, La Tasca, and Jaleo. In 2003 Ginette was part of the International Children's Festival at Wolftrap and the National Theater. For two consecutive years, she directed highly successful shows for the New years annual event, First Night Alexandria.
Ginette has been studying flamenco since 1999 in Virginia and Washington DC. She studied flamenco with various teachers including Sara Candela, Edwin Aparicio, Anna Menendez and most recently with Ulrika Frank as well as workshops with visiting artists La Tati and La Truco, and in Spain with the well-known young flamenco artist Juan de Juan. Ginette has been a part of the 4-H organization in Arlington Virginia, were she taught children the art of flamenco dance for a semester. Ginette is a natural performer who takes the time to carefully create and learn choreographies while still leaving room for improvisation—a skill that she has honed in her tablao experience. As a teacher and a young person herself, Ginette inspires her students with her enthusiasm for passing on the wisdom of her onstage experience and the pure joy of self-expression. Ginette gives her students the opportunity to feel the flamenco passion, boost their energy and enhance their soul. Olé Flamenco!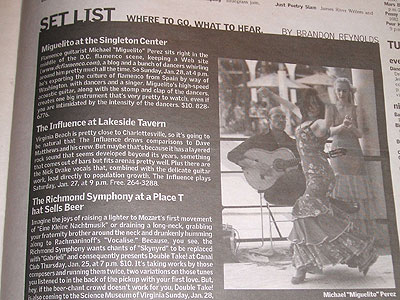 The concert announcement in Richmond's local Style Weekly with photo by Niko Alexandrou. January 28, 2007
The show went well and the audience was very appreciative. The performance was short and sweet just as John requested and we were out of the theatre after 90 minutes including intermission. Next up: the reception!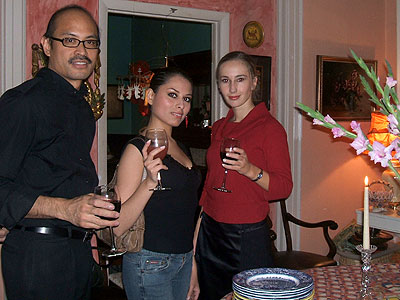 Miguelito, Ginette and Mariya at the after-concert reception. January 28, 2007 6:17pm (photo by Gina)
The reception parties at Charlie and Ruth Moeser's house are legendary--although it had been ten years since I'd last been in their beautiful historic home which was built in 1903. We rewarded our famished selves by partaking of the lavish spread of delicious food and drinks provided by our gracious hosts. It seemed that more and more guests were coming in every ten minutes or so.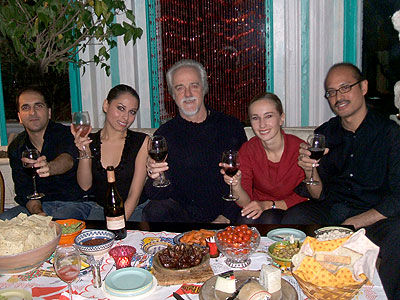 The Last Supper
Shahram Tehranian, Ginette, Gerard Moreno, Mariya and Miguelito. January 28, 2007 6:29pm
But all good things must come to an end eventually plus we had to leave since most of us had day jobs or classes the following day. And besides, I seriously needed to catch up on sleep!
On the drive home: looking over Ginette's shoulder watching a video replay of the concert. January 28, 2007 9:33pm
I usually prefer not to watch a video of a performance the same night. Something about watching a replay immediately afterwards that makes me needlessly self-critical of any mistakes regardless how small. I mean, yeah, I do strive for perfection, but I just think I'm in a better frame-of-mind to review a performance if I wait a few days before reviewing the video.
Of course, we had a two-hour drive back and we had to keep ourselves entertained, so Ginette pulled out the video camera and we watched portions of the video. And despite my misgivings about viewing a video replay, I actually enjoyed it more than I expected!
She rewound the tape to the beginning and watched the guitar solos. I was especially touched that Ginette wanted to watch this part of the video with me.
I can remember more than ten years ago, I was at an after-concert party and one of the dancers had a video of the show that night. So this dancer connected the camera to the TV in the house and pressed play. When it came to my guitar solo, she just fast-forwarded right through it to the next dance without hesitation. Noone seemed to mind and my jaw dropped. I was sitting on the couch watching the video in the company of all these beautiful ladies but at that point it didn't really matter. It was obvious to me that they didn't really care about the music.
Tsk, tsk tsk.
Don't get my wrong. I know that at least in the USA, the audiences generally prefer dance over guitar. I can remember reading an interview with Paco Jarana (guitarist for Eva la Yerbabuena) where he says:
"As a guitarist you have to accept that your place is in the background, but you also have to remember that the singer or dancer cannot excel without your help."
Amen!
Anywayz, I made it home around 10:00pm and went straight to bed. In the few minutes I had before I drifted off to my much-needed sleep, I reflected on the long but enjoyable flamenco-filled weekend I had: from the rehearsals, the tablao shows to the Sala Rociera party to the concert at VCU. I was tired, but it was the good kind of tired. I felt like I accomplished something. Well OK I did make some good money from my gigs, but more importantly I accumulated quite a few good memories to look back on when I need an extra boost of inspiration.
It's like 4:00pm now (I've been working on and off on this blog all afternoon) and I should take a quick nap and get ready for my gig tonight at Cafe Citron. We might have a new dancer. See you there!
« What's in my guitar case? | Main | Sala Rociera party at the Pink Flamenco. January 27, 2007 »