Tapeo on Saturday November 25, 2006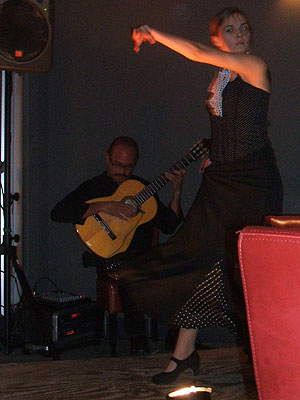 Sarah Hart. November 25, 2006 9:17pm (photo by Serenity)
It's 7:26pm on Sunday as I type these words. Around 11:00am this morning, I published a quick blog entry and decided to take a break, lay down and take a short nap. That short nap turned out to be eight hours long! It's OK. I needed it. Saturday was a long but very satisfying early day and late night. But I'm dying to get out of the house so I'm meeting up with a dancer friend around 8:00pm to go the movies and maybe get some dinner. That's half an hour from now, so I'll make this quick.
Anywayz, so after playing for Ana Martinez's class (see previous blog entry), I met up with a few dancer friends at El Patio and got some Argentinian food for a late lunch before heading down to Las Tapas around 6:00pm to pick up my sound system and transport it to Tapeo in time for my 7:30pm show.
The dancers were Ginette Perea and Sarah Hart. If you recall from last week, Ginette had a major car accident and although she didn't break any bones, she did have some whiplash and was a bit traumatized. But she recovered quickly and was more than happy to get back to dancing less than a week later. Good to have you back Ginette!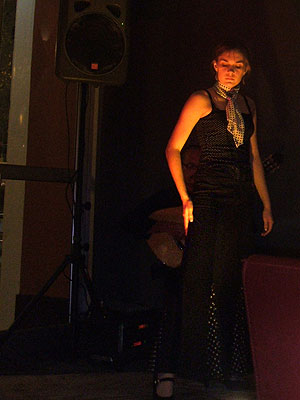 November 25, 2006 9:20pm (photo by Serenity)
It was an especially good show. Sometimes, everything just falls into place just right and when it does, you enjoy it while it lasts. My system was sounding good and my week-old strings were broken-in and making my guitar "sing" clearly while bringing out all the delicious harmonic overtones that make each strum of the guitar pure pleasure. And despite my sleep deprivation, I was in an especially good mood. I was happy to see Ginette. It was the first time I had seen her since the accident. I guess she was overwhelmed by how nicely I was treating her that she jokingly said to me, "Hmmm, I should get into accidents more often!" :-)
We had a number of friends in the audience including guitarist Charlie Moeser (from Richmond), Sarah's sister Lydia, Chris Kobar, Rachel and Serenity. We made some new friends including Charlotte and Gilberto.
It also had been a few weeks since I played for Sarah and she was dancing especially well.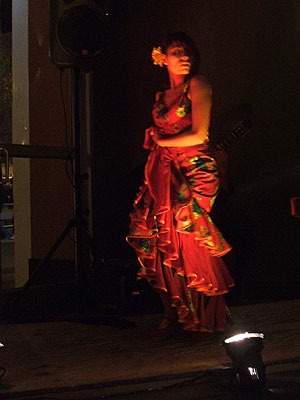 Ginette Perea. November 25, 2006 9:25pm (photo by Serenity)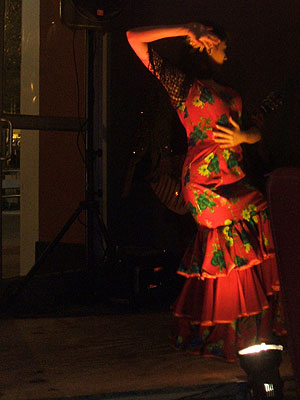 November 25, 2006 9:26pm (photo by Serenity)
It's days like these when I try to remember everything I did so I can repeat it all and make the day yet another day perfect! This is how pre-show rituals originate, for those of you who are superstitious. So what did I do differently on this particular Saturday? I played for Ana Martinez's class, got a juicy t-bone steak at El Patio.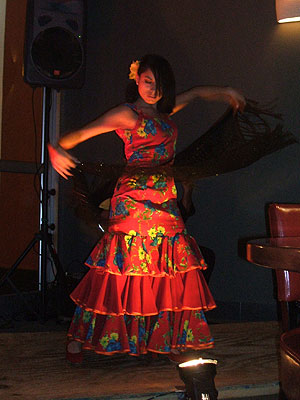 November 25, 2006 9:25pm (photo by Serenity)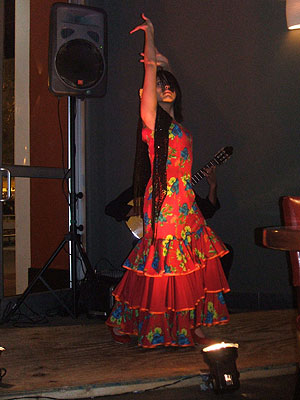 November 25, 2006 9:27pm (photo by Serenity)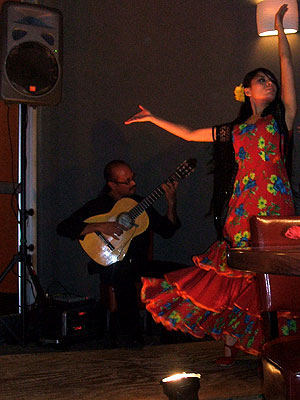 November 25, 2006 9:27pm (photo by Serenity)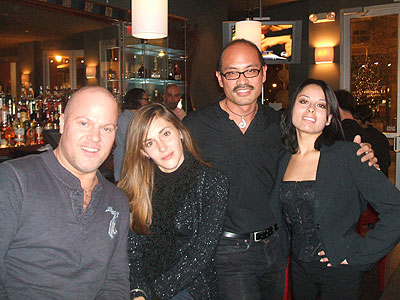 Chris Kobar, Serenity, Miguelito and Ginette. November 25, 2006 9:50pm (photo by Rachel)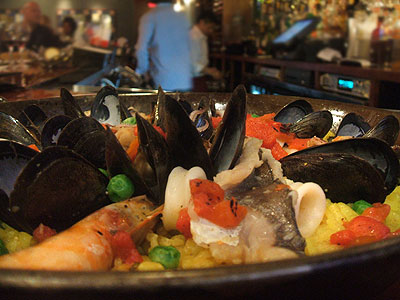 My dinner. November 25, 2006 9:57pm
It's like 7:55pm and I should get ready to go out so I'll end this blog here and sign off for now. I'll be back late tonight to add the pics from Saturday night's Sala Rociera and a couple of other things. It's going to be another long night, but let's face it. I know that much about myself: night-time's when I do my best work. Ciao!
« Ana Martinez's flamenco dance studio. November 25, 2006 | Main | Sala Rociera at the Pink Flamenco. November 25, 2006 »