Carlos Saura flamenco photo exhibition at American University. November 29, 2006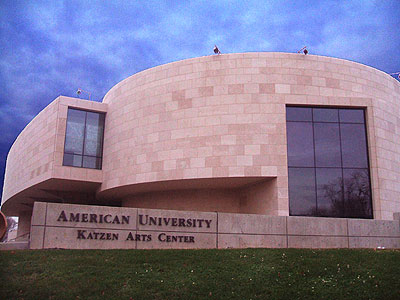 November 29, 2006 3:19pm
It's 12:36am on Thursday as I type these words. Got a serious amount of sleep on Wednesday, my day off after which I seriously needed to get out for some fresh air and stretch my legs. So I walked from my house, the Pink Flamenco about two miles all the way down to American University's Katzen Arts Center where the Spanish Embassy organized an exhibition of Carlos Saura's photographic work.
The majority of the photos document several of Saura's flamenco films including Bodas de Sangre (1981), Carmen (1983), Sevillanas (1992) and Flamenco (1995). Next to many of the framed large format black and whilte photos are placards with commentary giving insight into Saura's thoughts as he captured famous flamenco artists in action or just relaxing between takes.
I just took a few pics to give you little taste. If you want to see more, you'll have to go to the exhibition yourself...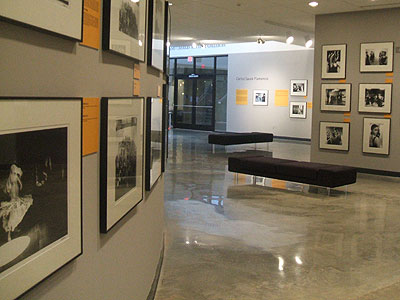 November 29, 2006 3:22pm
I love this space...the curving walls teasingly keep the upcoming photos just enough out of view that you have to keep on moving to see the next ones.
November 29, 2006 3:25pm
This photos are arranged chronologically starting with behind-the-scenes shots of Bodas de Sangre and end with shots from Flamenco and an eclectic collection of individual portraits and candids from rehearsals..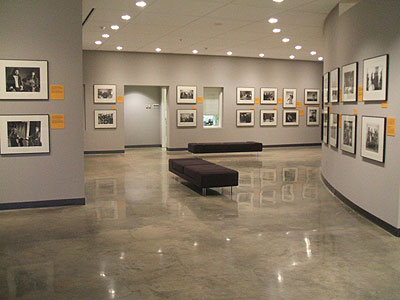 November 29, 2006 3:31pm
Here are some close-ups from the film Sevillanas...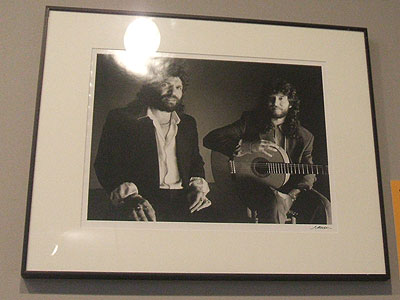 Camarón and Tomatito. November 29, 2006 3:32pm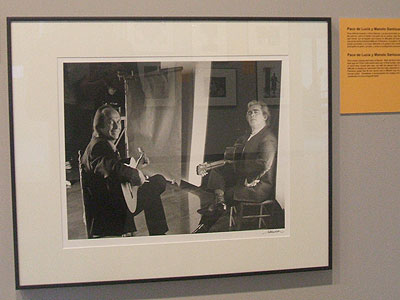 Paco de Lucía and Manolo Sanlúcar. November 29, 2006 3:41pm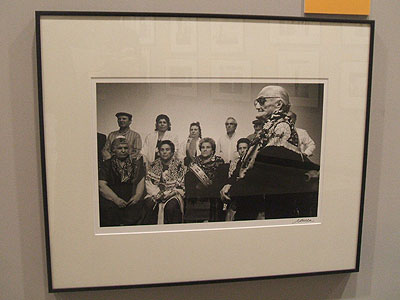 Sevillanas de Lebrija. November 29, 2006 3:46pm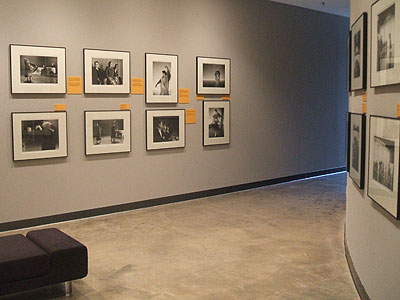 November 29, 2006 3:51pm
This last one is from the film, Flamenco. Can you name the artist and palo?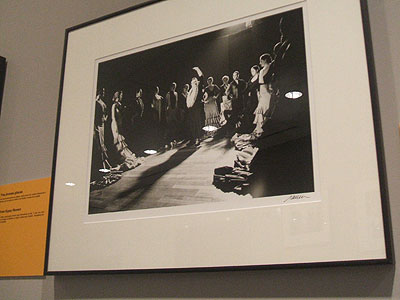 November 29, 2006 3:59pm
If you're not familiar with the name Carlos Saura, here's a short bio in English at esflamenco.com and here's his official website in Spanish.
The exhibition at American University's Katzen Arts Center opened on November 14th, 2006 and will be up until January 21st, 2007. Viewing hours are 11:00am to 4:00pm Tuesday through Sunday. For details, visit the museum's website.