Tapeo on Saturday October 7, 2006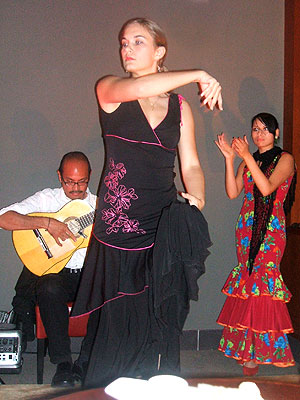 Sarah Hart in tientos/tangos. October 7, 2006 8:53pm (photo by Sarah)
It's 10:43am on Sunday as I type these words. Good morning! Last night I was performing at Tapeo with dancers Ginette Perea and Sarah Hart. This was the second Saturday in a row that we had the show indoors and I'm starting to like it now for a couple of reasons...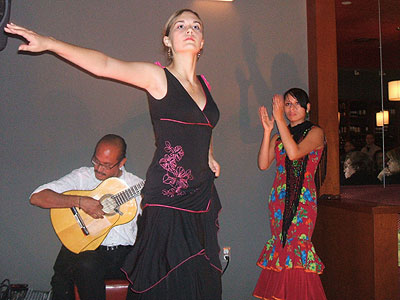 October 7, 2006 8:53pm (photo by Sarah)
1. With a wall behind the stage the respective performers' and audience's areas are clearly defined. When we used to perform outdoors in the patio, we had a lot people watching the show from behind us which didn't really bother me that much, but I sort of wished we had some kind of an usher to say to these people, Hey, may I suggest moving to the other side for a better view of the show? Don't get me wrong, if you, as an audience member, are enjoying the show from behind, good for you! But it just makes it easier for us to communicate our artistic message, so to speak, when you're in front, OK? :-)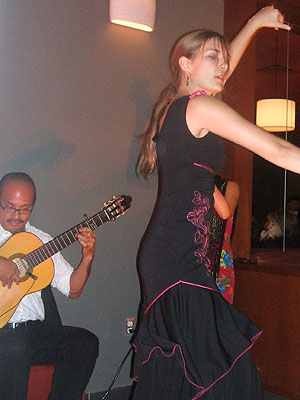 October 7, 2006 8:55pm (photo by Sarah)
2. We have more control over the ambience of the venue. I bought these stage lights for a reason: to draw attention to the dancers and myself, add a little theatricality and make ourselves look good. But when we were outdoors we were at the mercy of Mother Nature. Plus the lighting was a bit washed out by the natural light of the early evening. Indoors, at least we can dim the house lights as necessary to make the stage lighting more intense, plus we have the added dramatic element of our shadows dancing upon the wall behind us.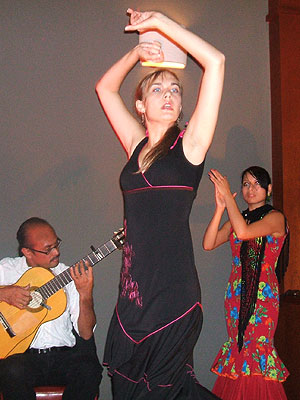 October 7, 2006 8:58pm (photo by Sarah)
3. We're closer to our audience. Flamenco stresses importance on the expression of feelings of the moment. You can hear it in the music. You can hear it in the ferocity of the zapateado (footwork), the playfulness of the palmas (handclapping) or added subtle spice of the pitos (finger snapping). But when you are up close in the intimate setting of a tablao, you can also see these intense emotions expressed in the facial expression of the performers--something which is not as strong in a large stage in a theatre. And in this intimate setting, we performers can pick up on the energy of the audience--yes, we do need your energy to bring our performance to the next level!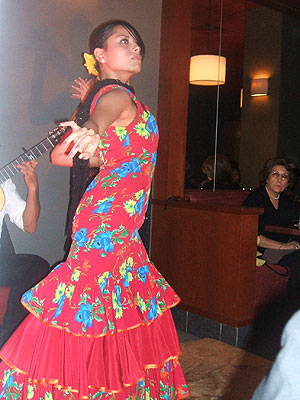 Ginette Perea in soleá. October 7, 2006 8:59pm (photo by Sarah)
I could go on and on, but the point here is that indoors we have more control as we try to present our show in just the right ambience for flamenco. Well, OK, I know that it's a fact of life that not everyone in a restaurant is there to see a show. In which case, I'll just have to count on the hostess to seat the people who'd rather engage in loud conversations as far away from the stage as possible.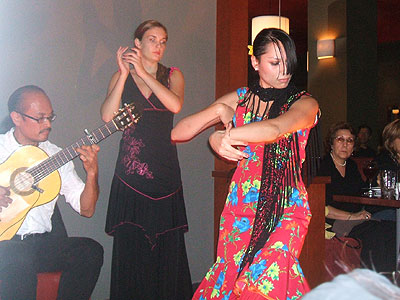 October 7, 2006 8:59pm (photo by Sarah)
It's too easy to go the diva route and refuse to perform a crowd that doesn't pay attention. But a good way to approach is as two kinds of challenges.
How can I engage this audience? Do I need to crank up the volume on the sound system? Or turn it down? Shorten the dances and focus on the intensifying the footwork? There is no one answer because every audience is different. Sometimes it works. Sometimes it doesn't. It's a real test of yourself as a performer to first be able to grab the attention of the audience AND also maintain that attention, the other challenge.
There have been a number of occasions when I've performed for very rude audiences. You know the type. They mockingly say things "Rrrrrriba! Rrrrriba! Andale" as if they were watching a mariachi group. Ugh. But there still might be that one or two tables of customers that are really paying attention to the show and you don't want to let those rude people get to you. Of course, with experience you learn to focus and tune those rude people out and direct your mental energy to giving your best performance.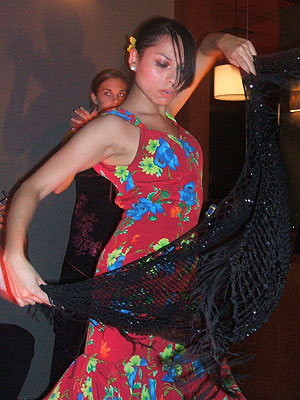 October 7, 2006 8:59pm (photo by Sarah)
This evening we had a lot of friends in the audience including a bachelorette party that came all the way from Baltimore to see our show. They called ahead and got a table right next to the stage and throughout the show were our most enthusiastic cheering section. Thank you ladies!
Also my filipina friend Sarah showed up with three of her fellow college student friends. Fellow flamenco guitarist Cipriano and his girlfriend came fro the second set and also got a table by the stage.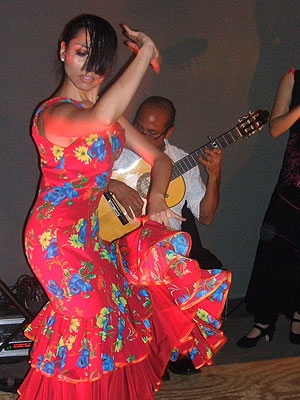 October 7, 2006 9:03pm (photo by Sarah)
Overall it was good night at Tapeo and I'm looking forward to more of the same. With the now cooler weather, I'm pretty sure the show will continue to presented indoors. Stop by and check it out sometime. If you don't feel like sitting down for dinner, you can always grab a seat at the bar. For more info, visit Tapeo's website or call 703-416 6431.
Cool, I'm done blogging for the day. No performances today but I am meeting a friend at 4:00pm. In the meantime, I think I'll walk over to my neighborhood Starbucks, get a doppio, grab a comfortable seat and read a few more chapters of The Kite Runner
.
« Eighteenth Street Lounge on Friday October 6, 2006 | Main | Cafe Citron on Monday October 9, 2006 »