Monday with Miguelito. October 16, 2006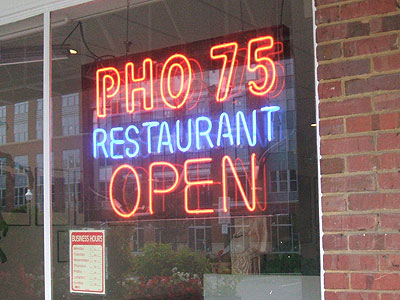 October 16, 2006 3:40pm
It's 5:50am on Tuesday as I type these words. Last night at Citron was a blast! Of course, it's always fun, but every now and then, all the essential elements fall together in such a way that it's just right performance-wise and hanging-out-with-da-friends-afterwards-wise. I certainly helped that I was in a good mood--but you know me, if I'm hungry I get cranky.
So yesterday afternoon, I had to go first to Virginia to pick up my sound system at Tapeo (where I performed Saturday night). Along the way, I stopped by Pho 75 in Arlington for a quick but satisfying lunch--I had been craving pho since last week.
It's just noodle soup, right? But the way they make at this place, makes it worth the trip. Checkout the pics...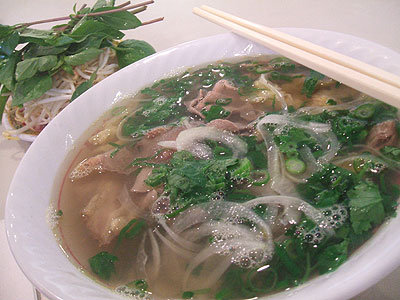 October 16, 2006 3:51pm
I got #10, my usual. That's what I tell the waiter instead of attempting to use the Vietnamese pronounciation of pho tai gau. It's basically noodle soup with slices of rare eye round steak and fat brisket that you can optionally garnish with bean sprouts, chile peppers, fresh herb leaves and a wedge of lime.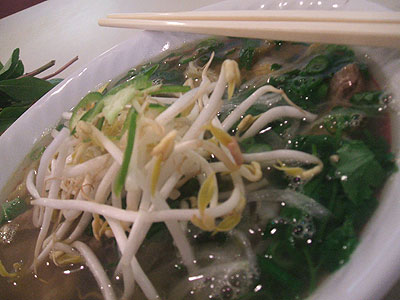 October 16, 2006 3:52pm
I ordered the regular-size bowl for a mere $5.45 and got what I needed to start off my afternoon just right! Didn't realize this until now, but according to the times these pics were taken, I finished my pho in 13 minutes! But it was heavenly and I was now in a very good mood.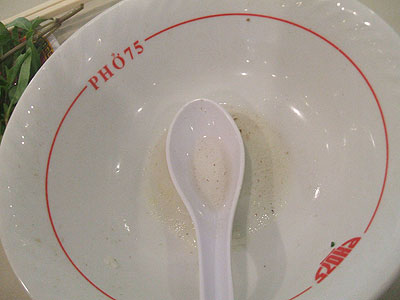 October 16, 2006 4:05pm
Got back on the metro, and made it to Pentagon City and chatted awhile with Carolina, one of the servers at Tapeo. She was telling me how business has improved significantly on Saturday nights now that we moved the flamenco show indoors. I have to agree with her.
When the show was outdoors, business wasn't bad, but there were lots of passersby that would stand and watch us perform and when we were done, most of them, as far I could tell, didn't go into the restaurant and order anything. Ugh. But now you don't have a choice: you have to come inside if you want to see the show.
Anywayz, after I picked up my sound system I got back on the metro to Dupont Circle so I could setup at Cafe Citron in time for my show. Fast forward a few hours later, I have pics starting from after the first set.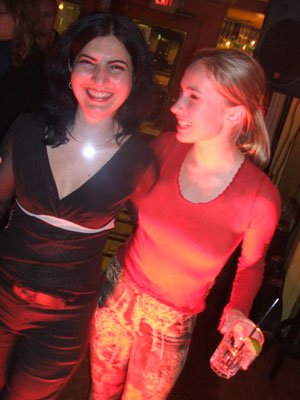 Kariné and Mariya. October 16, 2006 8:49pm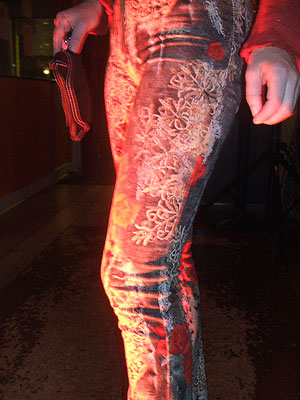 Mariya's jeans. October 16, 2006 8:50pm
Guess who walked in the door? Actually a lot of my friends did, but there was one that I hadn't seen in a very long time. I'll give you a hint: it was one of the dancers that performed here at Citron four years ago and appeared with me and Marta Chico Martín on the cover of On Tap magazine.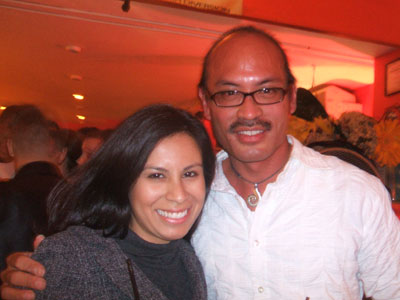 Karina and Miguelito. October 16, 2006 9:12pm (photo by Cindy)
Karina was one of my regular dancers here at Citron until she graduated from college and moved away to New York and start her career which, lucky for us, a few years later brought her back to the DC area where she continues to work in the fashion industry. But if you missed her, she told me that she'll stop by Citron again next Monday. She brought along her former high school classmate Cindy.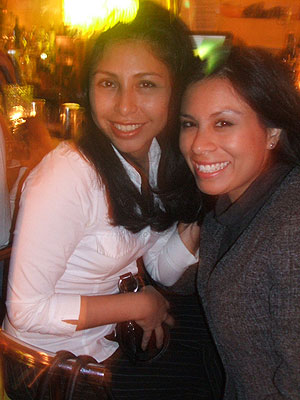 Cindy and Karina. October 16, 2006 9:12pm
I wasn't able to get Karina to dance at least some Sevillanas. She insisted on being just a spectator this evening. But there's always hope next time now that she's back in the DC area.
The club was quite crowded for a Monday night. And Keith, my volunteer photographer for the evening, ended up having to stand behind the stage which resulted in these pics where you can see the facial expressions of the members of our audience.
Mariya and Angélica in Sevillanas. October 16, 2006 9:24pm (photo by Keith)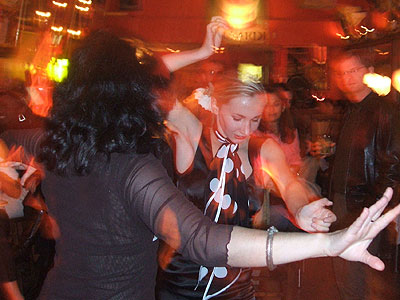 Mariya and Karine. October 16, 2006 9:24pm (photo by Keith)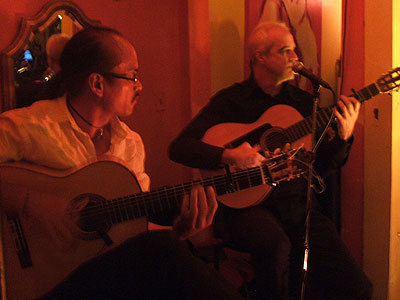 Miguelito and Gerard Moreno. October 16, 2006 9:26pm (photo by Keith)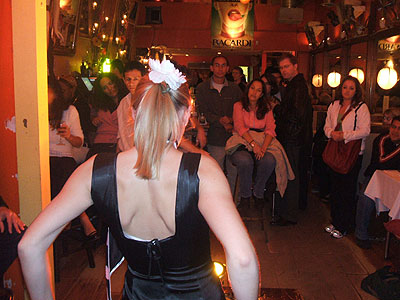 Mariya in soleá. October 16, 2006 9:33pm (photo by Keith)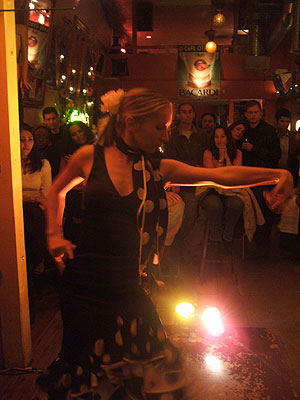 October 16, 2006 9:36pm (photo by Keith)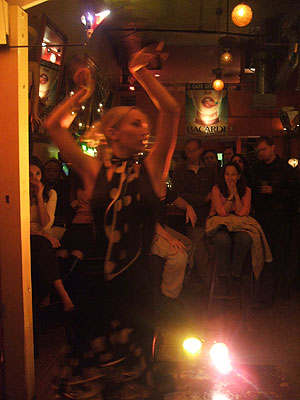 October 16, 2006 9:38pm (photo by Keith)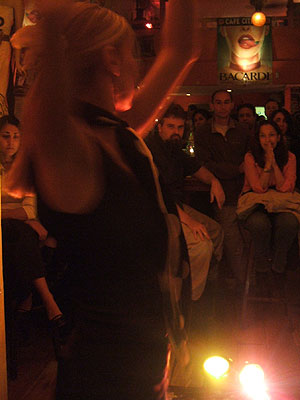 October 16, 2006 9:38pm (photo by Keith)
Another friend of mine, Sonia, whom I haven't seen in months had just returned from the Dominican Republic and we got her to dance some Sevillanas but she longed for a bachata, a dance which I'm guessing now has special meaning for her after living in the beautiful D.R. for several months. She also brought along a friend from school, Jojo.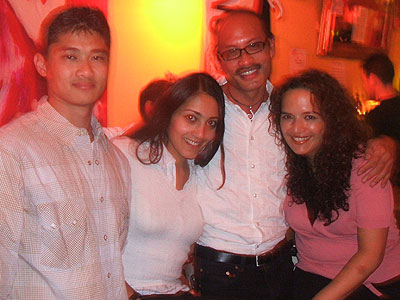 Jojo, Sonia, Miguelito and Angélica. October 16, 2006 10:03pm (photo by Keith)
This is my new friend Subha, a dancer specializing in Kuchipudi (a southern India dance form) who now has an interest in flamenco. She frequently performs and I'll definitely go check her out at an upcoming show.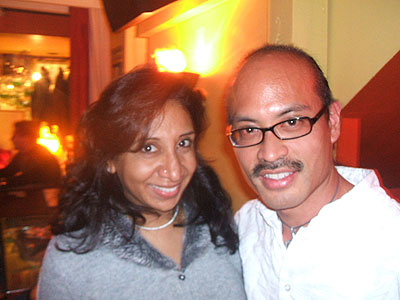 Subha and Miguelito. October 16, 2006 10:20pm (photo by Keith)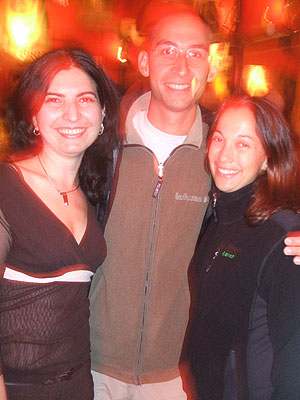 Karine, Eric and Amber. October 16, 2006 10:23pm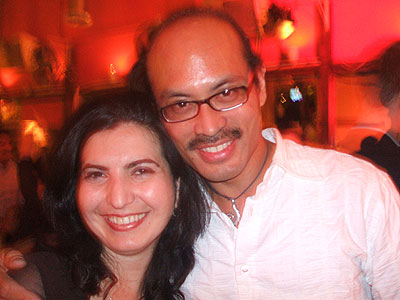 Miguelito and Karine. October 16, 2006 11:27pm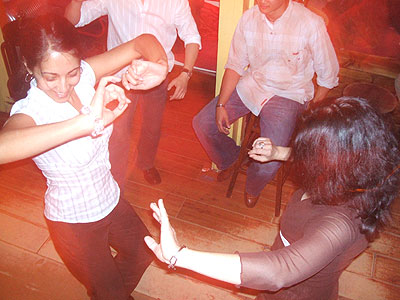 Sonia and Karine in Sevillanas. October 16, 2006 11:42pm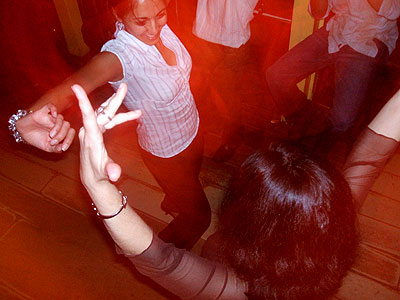 October 16, 2006 11:42pm
Didn't have anyone to catch a ride with so I had to leave at midnight to catch the last train and made it home at a decent hour for a change. I'm going back to bed and getting a few more hours of sleep. Good night, um I mean good morning!
Tonight I'll be performing at Las Tapas. See you there!
« Tapeo on Saturday October 14, 2006 | Main | Tutto Bene show. October 13, 2006 »