Gloria Monge and students at Fall for Fairfax. September 30, 2006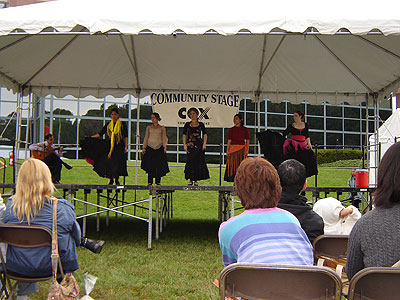 September 30, 2006 11:38am (photo by Esin)
This past Saturday I was playing for Anna Menendez's dance classes as usual at American Dance Institute in Rockville right about the same time that my guitarist friend Ayhan Ozdag was performing in Fairfax. Even if I had a car, I still wouldn't have made it out there in time to catch his show. So thankfully his daughter Esin took some pics which I'm happy to finally publish here for you now.
Guitarist Ayhan Ozdag writes:
Hi Michael,
Today (sep. 30) we had a flamenco show in Fairfax Government Center Cox stage to celebrate "Fall for Fairfax" festival. Gloria Monge and students danced Tangos and Sevillanas. Here are some photos...
Gloria teaches at Conservatory Ballet in Reston.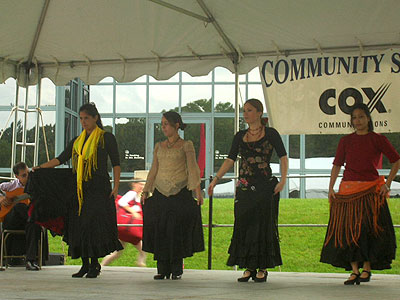 September 30, 2006 12:40pm (photo by Esin)
Truth is that while I am probably the busiest flamenco performer in DC and even though I do publish pics from just about all my performances, this photo diary of mine doesn't cover everything. In fact it still only scratches the surface of what's going on in the local flamenco community.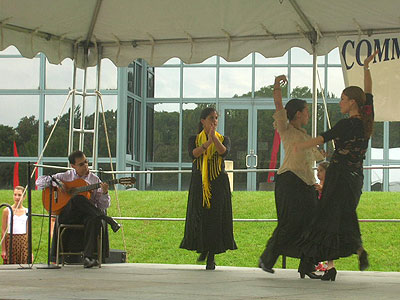 September 30, 2006 12:41pm (photo by Esin)
So my apologies to all the wonderful flamenco people out there working hard promoting flamenco in parts of the DC area that I rarely visit (mostly cuz I'm busy and don't have a car--I know, I know...lame excuse!). You're all in my thoughts and I wish I could publish and everything that goes on, but there's only so much I can do since I'm the only one running this website.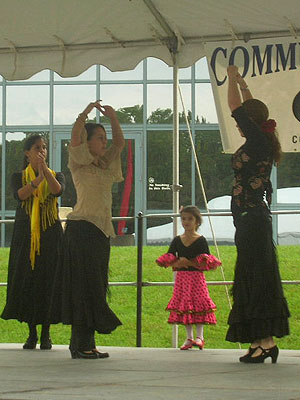 September 30, 2006 12:41pm (photo by Esin)
Yeah, for the record, a while back I did try out a blogging system where selected local flamencos had their own separate logins so they could add content to my website at their leisure without having to wait for me to get around to their emails and manually update the website myself. But that didn't work out. Hardly anyone contributed content.
Let's face it...by and large, artists are too busy with artistic pursuits to bother with publicity and marketing. I'm no expert in that area, but I'm just lucky that I got my website started at the right time (ten years ago) and just through sheer hard work and determination I've kept this website up-to-date as much as humanly possible such that the DC flamenco community has come to depend on me for the latest info. I do have my periods where I slack off, I admit. But I usually pick up the pace when I back out my slump all the while at least maintaining a respectable level of "updatedness."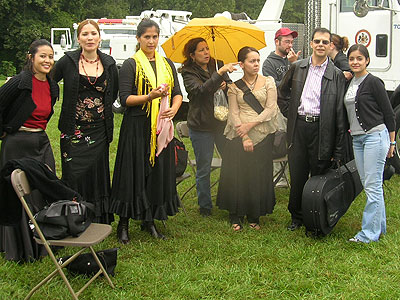 September 30, 2006 12:47pm (photo courtesy of Ayhan Ozdag)
OK, I did enough self-praise for now that I better stop before my ego gets over-inflated. hehe.
My thanks to Esin and Ayhan for these pics and keeping me up-to-date on Gloria Monge's classes, performances.
Check out this blog entry, from April 2005, where guitarist RJ Uebersezig and yours truly accompanied Gloria's class at Conservatory Ballet.
Since I'm ramblin' on here, I might as well mention that my new flamenco dancer roommate and I practiced this afternoon....um, for like 2 minutes when the guy from the dental office downstairs came up and told us to keep it down. Oh well.
It's a shame isn't it? Finally now that my dream came true and a flamenco dancer moved in who also happens to be free during the day, we still can't practice in the dance studio that's right smack next to my room! The thing is that there are people that work in an office below the studio during the day.
Hmmm...we'll figure something out. Maybe we can practice in her room instead, which is on the second floor, and hope that the footwork won't be audible to the office people in the basement. Or, we can just wait until I come home after midnight from one of my weekly flamenco gigs. Dunno about that...my non-flamenco roommate is not going to like hearing flamenco guitar and footwork at 1:00 in da morning! hehe
« Furia Flamenca at Dance DC Festival. October 1, 2006 | Main | Wednesday with Miguelito. October 4, 2006 »