Tapeo on Saturday August 26, 2006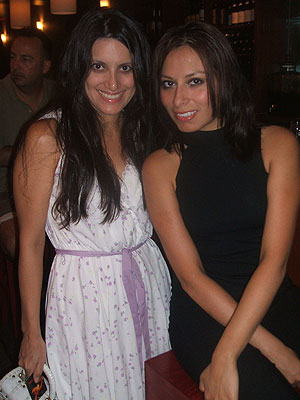 Maggie (from Mexico) and Ginette Perea. August 26, 2006 8:46pm
This particular night, I overheard customers asking the staff when the flamenco show was going to start. So I made a mental note of where these customers were seated, I took the liberty of greeting them while they waited for the show to start.
If you've been reading my blog the past year or so, you know that meeting the members of the audience is one thing I'm doing to overcome my shyness. Anyway, it was a good move cuz I had to stall a little while since the show was running a little behind schedule.
One group was a Venezuelan family and the daughter, Andrea, turned out is a flamenco dancer. They came especially to Tapeo this evening just to see the show. One member of this family even proclaimed that he is an aficionado and that he would be watching our show with a very critical eye.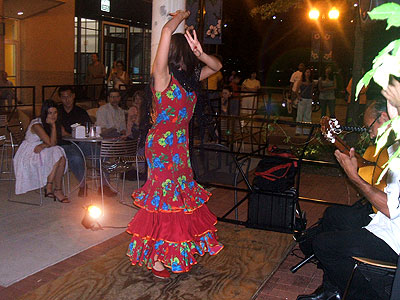 August 26, 2006 9:17pm
A few years ago, this would have intimidated me, but actually nowadays I welcome it. In fact, it inspires me to perform even better more so because of the fact that I know that the aficionados can appreciate the finer details of our performance.
I also met a lovely mexicana named Maggie who, it turned out, already knew about my wonderful website and will start taking flamenco dance classes hopefully very soon. I made her promise that I'll have her onstage a year from now. Got that Maggie? hehe.
Also in the audience was the radio producer from WETA that interviewed Ginette and I last week. Thanks for coming Twana!
« Cabanas on Friday August 25, 2006 | Main | DC Dance Collective on Sunday August 27, 2006 »