Saturday with Miguelito. August 12, 2006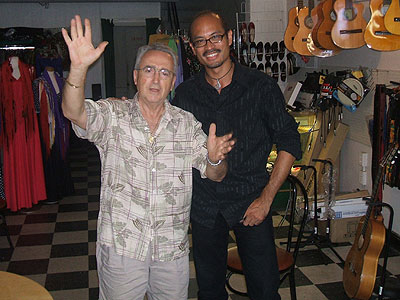 Paco de Málaga and Miguelito. August 12, 2006 12:58pm
It's been awhile since I paid a visit to the Guitar Gallery in Cleveland Park which is just a few metro stops from my neighborhood. So I dropped in and by a stroke of luck I made it in time to say hello to my friend Paco de Málaga just minutes before he left the store on his way to the airport. He and Ana Martinez left for Spain yesterday (Saturday) where they'll be vacationing for about a month. Ana will be back in time to start up her fall dance classes and Paco will have restocked his inventory of flamenco guitars and flamenco shoes and dance accessories.
I helped out awhile acting as interpreter when the customers didn't speak any Spanish. Julio, a very fine guitarist from Argentina, was manning the store. I was trying to recall some of my old classical repertoire and when I mentioned Agustin Barrios to him (classical guitarists will instantly recognize this name) his eyes lit up and he couldn't stop telling me all he knew about one of his favorite composers.
For over an hour Julio treated me to a private concert of many of his tango compositions interjecting a few little anecdotes about Barrios while I occasionally played along sightreading the manuscripts. Argentine tango is a very passionate art form, as many of you know. Different feel altogether of course, but still something that can move you emotionally if you allow it to. Thing is that as a flamenco it's too easy to fall into the trap of viewing other genres of music through the lens of flamenco. It happens sometimes and when I catch myself doing this, I remind myself to appreciate each different genre in its own context.
Fast forward a few hours later, I was at Tapeo in Pentagon City performing with Ginette and Mariya...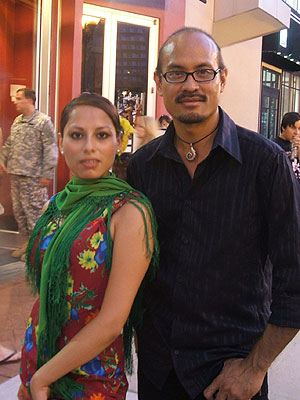 Ginette Perea and Miguelito. August 12, 2006 8:18pm (photo by Elena)
During our first show, I noticed a dancer friend named Elena in the audience and afterwards got her to volunteer as a photographer for the next show. The weather was perfect for a change with little humidity. We started the show a little bit later than usual, so with the darkening sky of the early evening, the stage lights added that necessary dramatic touch to entice more people to stop and watch our performance.
I had dinner before I got here and so I didn't order food but I had to at least get a cool refreshing drink. My choice...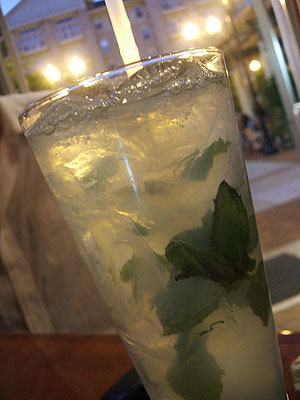 Mojito. August 12, 2006 8:23pm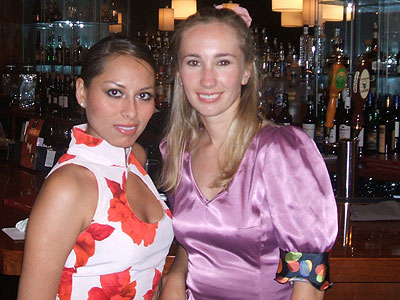 Ginette and Mariya. August 12, 2006 8:49pm (photo by Elena)
At about ten minutes to nine, we started the second show. By now the patio tables were all filled (yay!) and the interior dining area was maybe 3/4 full. And as soon as I started playing the intro to Sevillanas, people from all over the courtyard gathered 'round the stage to watch. There was even a group of people who setup a row of chairs just to watch the show--ahem, people if you do that, please order a drink or some food. Oh well, the more the merrier.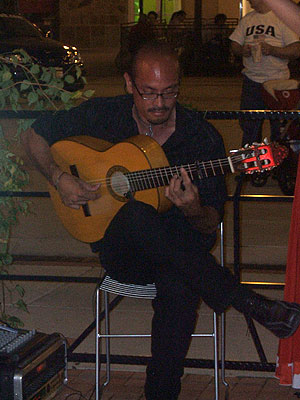 August 12, 2006 8:54pm (photo by Elena)
August 12, 2006 8:55pm (photo by Elena)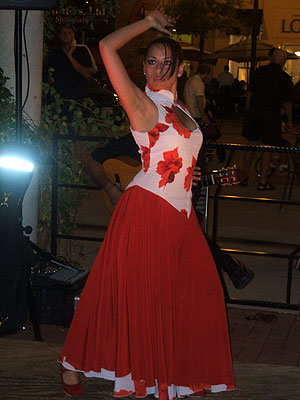 August 12, 2006 8:57pm (photo by Elena)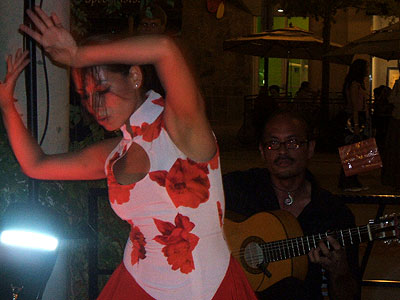 August 12, 2006 8:59pm (photo by Elena)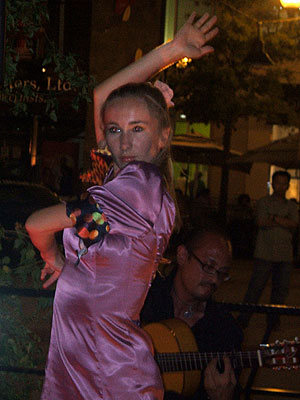 August 12, 2006 9:03pm (photo by Elena)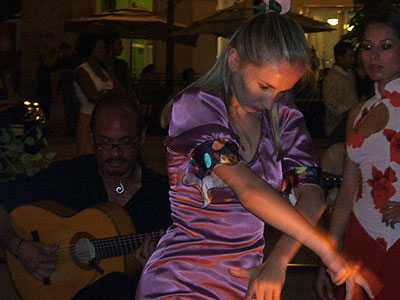 August 12, 2006 9:03pm (photo by Elena)
It was a good show and as is typical of fun experiences, time flew by and it was over before I knew it. My thanks to dancers Ginette Perea and Mariya and of course our loyal fans who come out to see us perform week after week!
It's 10:30am on Sunday now. Other than practicing guitar and spending a few relaxing hours at a cafe and reading a few more chapters of Shantaram: A Novel
(I'm halfway through this 900 page epic!) I don't have any plans yet. If something comes up, you'll read about tomorrow, hehe. Ciao for now!
P.S. a week from today, I'll be performing at the Hispanic Festival in Millsboro, Delaware (checkout da pics from last year). A good excuse to come out and support your local flamencos and squeeze in a visit to nearby Rehoboth beach one last time. I'll post details later this week.
« Guarapo. August 10, 2006 | Main | Cafe Citron. August 14, 2006 »