Guarapo. August 10, 2006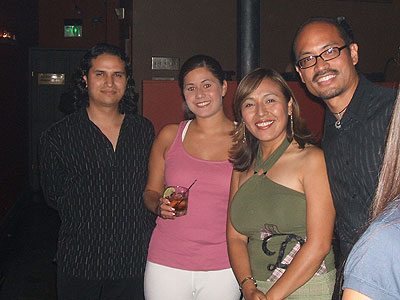 Cesar Oretea, Monica Serrano, Indira Terraza and Miguelito. August 10, 2006 10:45pm (photo by Joe)
Did my usual gig at the Andalucía Restaurant and afterwards the manager Monica was going to drop me off at my house. But it was such a beautiful night--cool and with little humidity--that I convinced her to take me to Guarapo instead. Hehe.
It was a good choice cuz I haven't been here for awhile. They now have a DJ here on Thursday nights that keeps the crowd dancing between the rumba shows by Duende Camarón. According to my friend Indira the place was more crowded than usual.
Armand, José Oretea and Cesar. August 10, 2006 11:11pm
Later this month, José and Cesar will be going to Bolivia for a month. They have such a huge loyal following here in the DC area that I can't imagine what it will be like here at Guarapo and their other regular venues while they're gone. We'll see.
Anyway, I stuck around for one set, and left around 11:30pm like a good boy to make sure I could catch the last train home to the Pink Flamenco. ;-)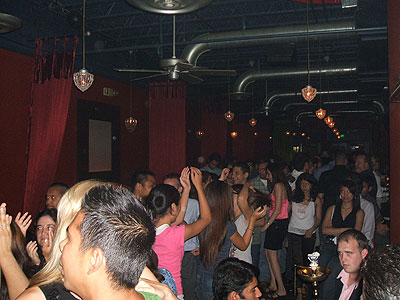 August 10, 2006 11:17pm
As for tonight, I'll be at Cabanas with dancers Ginette Perea and Mariya. See you there!
« Flamenco in Wilmington, Delaware. August 8, 2006 | Main | Saturday with Miguelito. August 12, 2006 »