DC Dance Collective on Sunday August 27, 2006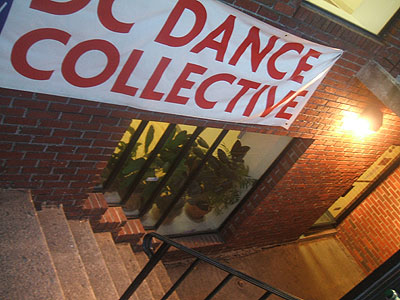 August 27, 2006 6:32pm
It's been awhile since I last played for classes at DC Dance Collective on Sunday nights. This was the first Sunday I happened to have no gigs, rehearsals or social visits planned. I was actually free, if you can believe that, but it turned out I didn't have my guitar with me. It was cool though.
At least I had my camera with me so I took some pics of Ulrika Frank's flamenco performance workshop. It was a Farruca choreographed to Behzad's composed music. Some (hopefully all) of these students will perform this choregraphy at DCDC's Collaborate Arts Festival on Saturday September 16, 2006.
Behzad Habibzai accompanying Ulrika's farruca workshop. August 27, 2006 6:36pm
August 27, 2006 6:36pm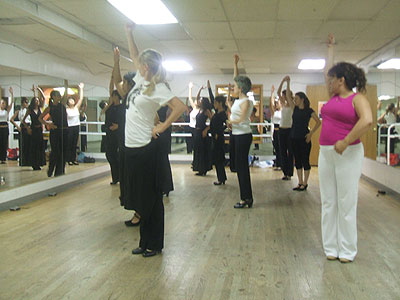 August 27, 2006 6:36pm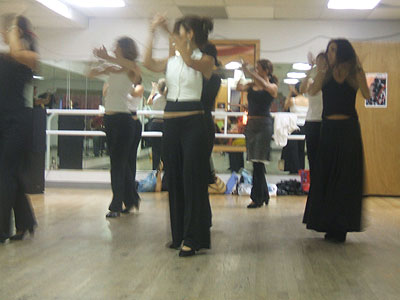 August 27, 2006 6:52pm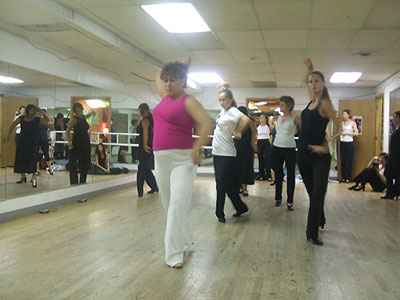 August 27, 2006 6:57pm
I got to catch up with some of the staff at the studio, one of whom is also a dance student of Estela Velez. Estela's company Furia Flamenca has got a busy schedule for Hispanic Heritage Month. Checkout their website.
I was kind of hoping to see percussionist Gonzalo Grau, who occasionally accompanies Genoveva's Sunday night class, but he was out of town. Oh well, it was great to see Genoveva's class well attended not to mention my seeing a few familiar faces that I hadn't seen in a long time.
Genoveva working out footwork for her Sunday night technique class with the help of Jason Vera y Aragón's palmas. August 27, 2006 7:01pm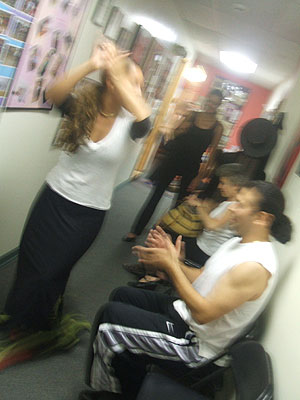 August 27, 2006 7:02pm
After Genoveva's class a number of us went out for dinner at the Thai place next door and caught a late movie down the street. I made it home a little after midnight. A lazy laid-back but very satisfying day!
Tonight (Monday), I'll be at Cafe Citron. See you there!
« Tapeo on Saturday August 26, 2006 | Main | Cafe Citron. August 28, 2006 »