Cafe Citron. August 14, 2006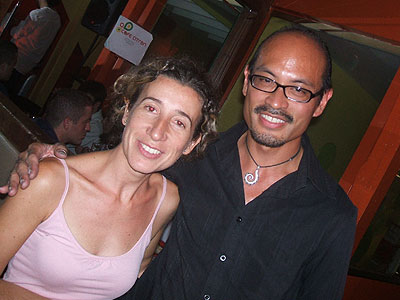 Ana (from Zaragoza, Spain) and Miguelito. August 14, 2006 9:40pm
Pictured above is my new friend Ana from Spain who unfortunately does not know how to dance Sevillanas...yet. Naturally, I gave her my card and she promised she'd check out my website and perhaps take some lessons sometime soon.
Anywayz, performing with me were singer Gerard Moreno, dancer Mariya and percussionist Jason Vera y Aragón with special appearances by singer José Oretea and dancer Shahram Tehranian.
Jason had his camera and got someone to take pics during the show, but it might be a few days before I can get those image files on my computer, sorry. I've got a backlog of pictures that I'm slowly catching up on, so please be patient.
My camera battery died before the first set even started. Ugh. But after the second set, I ran out to CVS and got some new batteries and managed to get a few pics of da wonderful people who support us artists: allow me introduce you to some of my friends...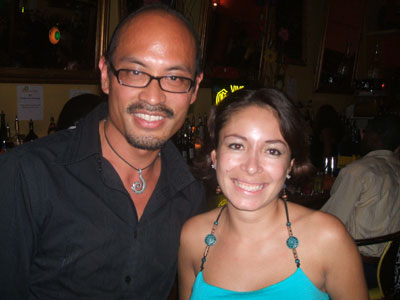 Miguelito and Kathy. August 14, 2006 9:47pm
You remember Kathy. In my blog back in May, I posted pics from her recent trip to Spain. I first met her here at Citron in January 2004 and kept in contact even when she moved back to Miami for awhile (thank you MySpace!). With her new job, Kathy moved back to DC a week or two ago and is going to look into taking flamenco classes when she settles in.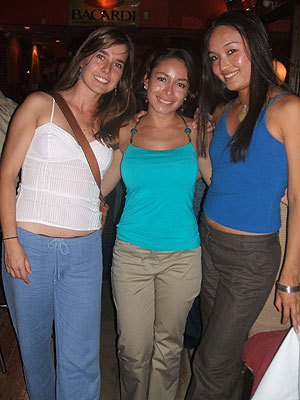 Ana Paula (from Brazil), Kathy (from Colombia) and Teresa (from China) August 14, 2006 10:03pm
The lovely Ana Paula and Teresa are friends of Kathy and although they are regulars here at Citron, it was their first time to come on a Monday night for flamenco.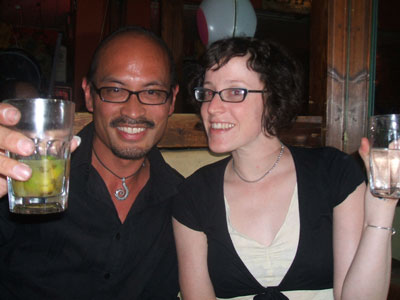 Miguelito and Tess. August 14, 2006 10:28pm
Tess is a fellow musician (checkout her website) and a friend of Miles. And Miles, if you recall from last year, hung out with Behzad and I when we performed in the beautiful state of Maine last summer.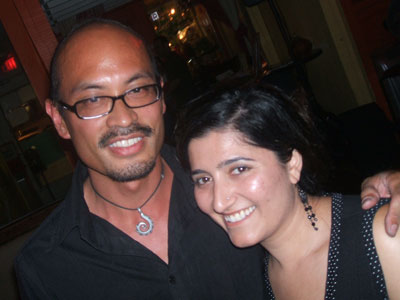 Miguelito and Madiha. August 14, 2006 10:40pm
My very good friend Madiha whom I met almost exactly two years ago here at Citron used to come every Monday back then and she would always bring her friends Ivana (from Slovakia), Gisele (from Per&uacute) and Lilian (from Haiti)--I used to call them the international version of Sex in the City. :-) Lately though, she's only been coming to my Monday night show every now and then, but still it's cool cuz we've managed to keep in contact in the meantime (thank you MySpace!).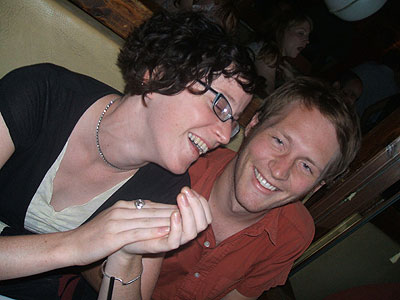 Tess and Miles. August 14, 2006 10:54pm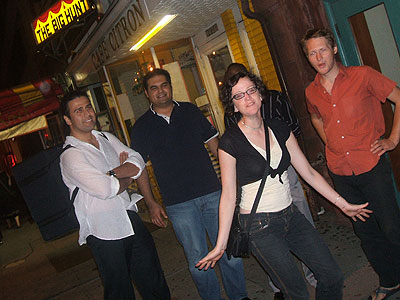 Calling it a night: Jason, Behzad, Tess, Carlton and Miles. August 14, 2006 11:49pm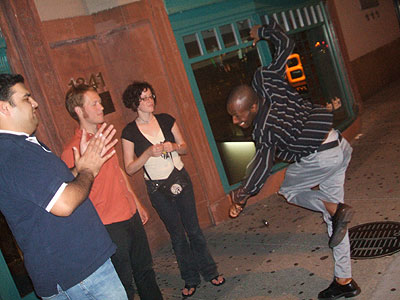 Carlton gettin' in the bulerías mood. August 14, 2006 11:50pm
Other friends that came but not pictured: Shahram, Linette, Lillie, Ashok, Davide, Fadi, Fernando and Dino. My thanks as always to everyone who comes and supports us local flamencos! Check back here in a few days for pics from the performance itself. It's now 2:43am on Tuesday as I type these words. Still wide awake though, so I think I'll read a few more chapters of Shantaram until I drift off to sleep (Hey C! I'm on page 651 out of 900. What page are you on?) Good night!
« Saturday with Miguelito. August 12, 2006 | Main | Las Tapas. August 15, 2006 »