Mr Suave :-) May 2, 2006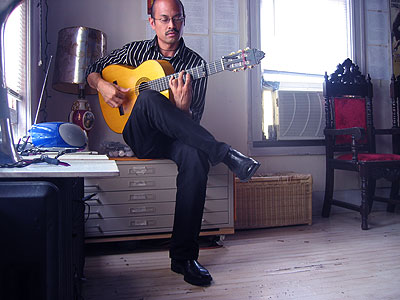 Practicin' at the Pink Flamenco. May 3, 2006 12:45pm
Yesterday (Tuesday), I got up early and got dressed so I could drop off my guitar and sound system at Las Tapas by noon and get back on the metro in time to arrive at Rosslyn at 12:45pm and walk across the Key Bridge into DC for a 1:00pm appointment.
A friend had a day off from work so she invited me to spend a leisurely afternoon in Georgetown. The skies were clear and the sun was out and beating down pretty hard. But, despite my usual all-black attire I stayed pretty cool thanks to da occasional breeze--I had a loose-fitting button down shirt with the sleeves rolled up, starting-to-fade black jeans and just-shined boots. As I walked up M St an unexpectedly articulate pan-handler called out to me, "Hey suave! Help the homeless?"
"Not today. Maybe some other time."
"I called you suave, cuz you're so smooth."
I chuckled to myself and walked on without stopping. This guy's good at flattery! I was so tempted to turn around and give him a dollar anyway just for that tiny boost to my ego. :-) But I was running late to meet my friend.
Phone rang. Turned out she was running late too, so I took advantage of the extra time to scope out some of the nearby restaurants--we were going to get some lunch and see where things go from there. I focused on the places with outdoor seating...
Alamo, been there already. Cafe La Ruche, picturesque but almost full. Sea Catch, shaded but not such a great view. Ristorante Picolo, nice balcony but too much direct sunlight.
Met up with my friend finally and ended up at Mr Smith's where they had a shaded garden. Perfect!
I was in a healthy-eating mood so I ordered the grilled fish special with steamed vegetables and pilaf rice for $11.95. Yummy but not very filling. She ordered the burger (half-price special on Tuesdays) which was only $3.50! We lingered awhile after eating. At around 2:00pm most of the customers had left, probably to return to their day jobs, hehe! :-) So we pretty much had the garden area to ourselves, nice!
Caught up on each other's lives since our last leisurely day in Georgetown. I couldn't resist talking about the illegal immigrant boycott which caused me to lose a day's worth of income last night (grrrr!) and although I am leaning towards the "illegal is illegal" side, I'm still not quite decided on the issue yet. My friend wasn't quite decided on this either.
Didn't want to get all worked up on what was supposed to be a relaxing afternoon, so we paid our check and headed towards the waterfront and joined the rest of the people smart enough to schedule some down-time watching the waves of the Potomac carry off our worries out to sea. :-)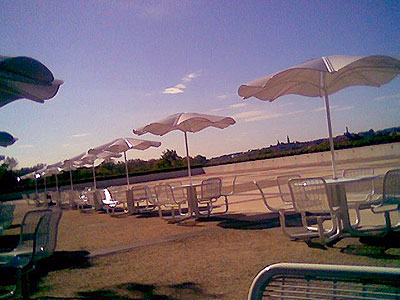 Kennedy Center plaza looking over the Potomac. May 2, 2006 4:22pm (taken with my camera phone)
We continued our walk past the boat house onto a trail that led to the Kennedy Center where we found the plaza deserted except for this one guy that my friend and I decided was a Georgetown student getting away from campus to find a peaceful place to study.
Seeing this guy studying reminded my friend that she wasn't being productive so she pulled out her laptop to see if she could log onto a wireless network and check email.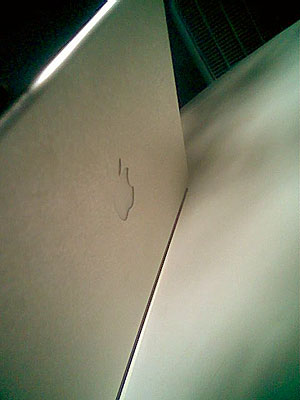 May 2, 2006 4:24pm (taken with my camera phone)
Password was required. I told her to try P-A-S-S-W-O-R-D. Didn't work. OK, howzabout K-E-N-N-E-D-Y? Nope. Thank God.
We lingered a while longer and decided to head towards to Dupont Circle. I wanted to drop into Cafe Citron to say hello. We ended up getting some drinks, I got a refreshing but potent caipirinha and she got the standard Citron mojito. TIP: sweet citrusy drinks are temptingly easy to drink so quickly that you might forget how much alcohol you're really drinking. But I've made a conscious decision to cut back anyway--on alcohol. So I only had one.
Besides, we're both saving up for our two-day trip to New York next week (Wednesday-Thursday) so speaking for myself, this'll be my last luxury expense until then--yeah right! :-)
I'll be at my new gig at Tapeo tonight with dancers Ginette Perea and Mariya. It's located next to the Pentagon City Mall (Map). Shows at 7:00pm and 9:00pm. See you there!
« Eerily quiet night. May 1, 2006 | Main | New gig at Tapeo. May 3, 2006 »