Miguelito's Day Off April 26, 2006
It's 6:58am on Thursday as I type these words. Yesterday I had a day off from performing but still had a few business-related errands to take care of....
The new restaurant Tapeo asked me to create a flyer to announce their new flamenco show. I promised them I'd put something together that included photos of the dancers I would be using for this gig. Sounds simple, right? Well, the problem is that I had to select the perfect pics and I've got thousands to browse through! Ugh. Simple, yes but labor intensive! Then there was the painstaking process of editing out the background behind the dancers.
This is what the first draft of the flyer looks like...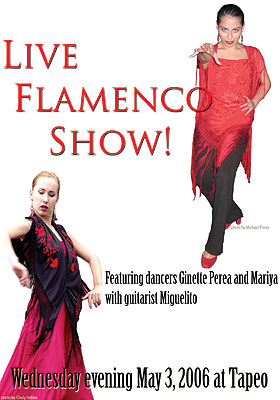 It needs a border of some sort to "define" the space. Visually everything is just floating around in whiteness. Anyway, the show is coming up in less than a week so I was under pressure to at least print out a hard copy for the restaurant to start using already.
So I did the necessary file prep to avoid any unexpected errors when I printed out a high-quality version at Kinkos--increase the DPI to 300, set to CMYK mode, embedded the fonts, check for pixelation at actual print size etc. I know this sounds like geeky stuff but trust me, when you've worked hard on a flyer and printed it out only to find the fonts look totally different, the colors are way off and the image is blurry etc you really need to check and double-check everything.
To top it all off, the Xerox Phaser 7700 color printer at Kinkos broke down. The "expert" on staff there told me that they needed to take it out for repairs and that since the other color printers were also down (this is BS cuz the guy was in the middle helping another customer and didn't want to stop everything to print out my lil' flyer), he suggested I go to another Kinkos. Ugh.
At least I was able to print out one copy before the printer died on me. But that was just a test copy to make sure everything printed decently. I wanted to load some heavier higher quality paper for the final version. But time was short and I needed to produce something to show the client. So I put the one copy (on flimsy paper) in a Kinkos paper bag and walked out towards the metro to go to Pentagon City where the restaurant is located.
The client was happy with it, but he still wanted to add his logo and said he would Photoshop it himself. Yay, I love it when clients are up-to-date on technology and are do-it-yourselfers. Anyway, the restaurant is beautiful in its simplicity dominated by red balanced with a splash of black. He has a commercially-appealing selection of flamenco and flamenco-ish CD's to give his Spanish tapas bar the right ambience. But I gotta talk to him about chucking his "old-skool" CD changer. Ipod please! :-)
Anywayz, come check us out on Wednesday May 3rd. The shows are at 7:00pm-ish and 9:00pm-ish. Yours truly will be accompanying dancers Ginette Perea and Mariya and weather-permitting (pray for a sunny day) the stage will be outside in the patio. Oh yeah, the restaurant is called Tapeo and is located in the courtyard of outdoor restaurants along the Joyce St side of the Pentagon City Mall.
Later I visited a friend at her office near the Court House metro. I was in the area and had some free time so popped-in to say hello and she invited me to grab a bite on her dinner break, yay! We went to Guarapo, and surpisingly she had never been inside this place despite working in this neighborhood for years. I got the tuna ceviche which was basically Latin American sashimi. :-) Plus I ordered a side of mote--large white kernels of corn boiled, yum!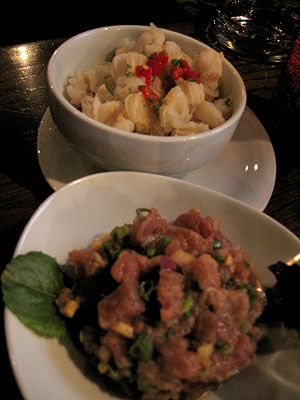 Ceviche de Atún and Mote. April 26, 2006 6:45pm
She ordered arepa with beef--and I ended up eating half of her portion. I was hungry anyway and it was so good! We enjoyed some conversation--talked about her daughter who happens to be a flamenco dancer--and just relaxed and enjoyed the surroundings from the fruity aromas of the hookah at the next table and the latin chillout music played at a high enough volume level to give a clubby feel.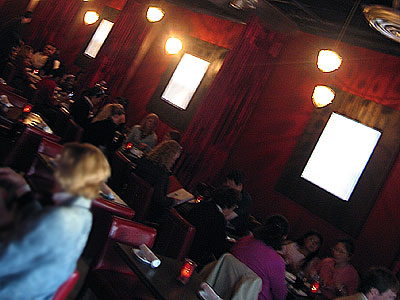 Guarapo's early dinner crowd. April 26, 2006 7:17pm
I walked her back to the office, said goodbye and headed to Ispirato a few blocks away to say hello to my brother.
It was beautiful night (a bit on the cooler side though) and it would've been nice to go out, but I gotta save my energy for this weekend. So I went to the Barnes and Noble in Clarendon and browsed.
Remember when I asked about the right foods for brain power a few days ago? I found some answers in the book Improving Your Memory for Dummies
. Supposedly, the brain is a heavy consumer of the body's glucose taking in as much as 25% of the supply on a daily basis. Candy, like M&M's has glucose but the author recommends complex carbohydrates which have something called a low-glycemic index. These kinds of carbs provide a sustained release of glucose which is better than the sugar rush of the high-glycemic sources like candy. Here's an online guide to brain foods.
As I was taking the Body Quotient Quiz (I was in a health-minded mood) in the latest issue of Esquire, my phone rang, LOUDLY! People quietly reading around me looked up and gave me these dirty looks. Ooops! Forgot to silence the phone. Oh well. I quickly got up and headed outside to talk.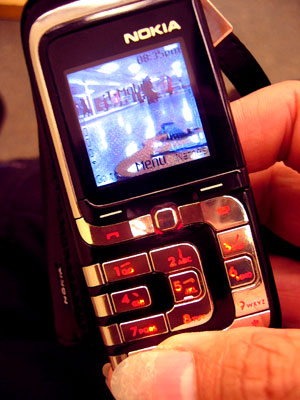 April 26, 2006 8:41pm
It was a friend who decided to join me on my one-day vacation in NYC in May. We talked about logistics of transportation and accomodations and fun stuff we would do up there. By the time we finished talking I was feeling pretty relaxed already from just thinking about getting away for a day. Ahhh! :-)
« Julia en Jerez April 26, 2006 | Main | Quod Severis Metes. April 28, 2006 »