I knew this would happen someday April 25, 2006
It's 11:39pm on Tuesday as I type these words. Got home a short while ago and I'm going to bed early for a change. Gotta conserve my energy for this weekend. On Saturday night, I'm performing in a showcase at the Alliance Dance Institute and afterwards I'm heading home to the Pink Flamenco for the Sala Rociera party which will go on pretty late. Not to mention playing for Anna Menendez's classes at American Dance Institute from noon until 2:30pm.
So pretty much all day and night I'm either playing guitar or commuting (with more than a 100 pounds of sound equipment) from 11:00am Saturday as I head to the dance studio and on until 3:00am Sunday when the Sala Rociera party lets out! But I'm not complaining though. I am doing what I love to do, just doing a lot of it and probably more than my mind and body and handle in a day. So be warned: I might be a little short-tempered at some point. Be nice to me! :-)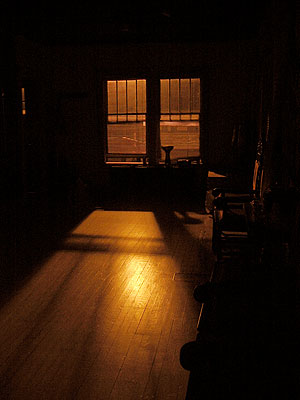 Pink Flamenco dance studio. April 25, 2006 11:25pm
I just took the above pic a few minutes ago. It's pretty quiet in the house now. Hard to believe but in a few days, this room will be filled will lots of people dancing Sevillanas and rumba, socializing and basically having a good time.
A couple of days ago, do you remember when I was venting about how I don't enjoy playing background music especially when people don't pay attention? Well this evening at Las Tapas I almost lost my patience.
We were doing the second show. The dancers were Anna Menendez and Edwin Aparicio. I've worked with these two so much, we're pretty comfortable with each other onstage. Anyway, there was this group of about ten customers (college age) all seated next to the stage on my left. They were speaking Spanish loudly and having a good time--I'm assumed they were Hispanic and perhaps were aware of flamenco's Spanish connection and would probably could relate to our performance on some level and eventually shut up, right? Turns out I was way off!
I know this is a restaurant and not a concert hall so I can't expect complete silence. So at first I was going to shrug it off and let it go...but instead it got much much worse.
I played my intro to solea and there were occasional bursts of loud laughter in the middle of my falsetas or as I finished a musical phrase. Ugh. I was trying to set the mood through my music and these inconsiderate people were ruining it for us and the rest of the crowd. I said to myself, "Be a professional. Don't let them bring you down. Focus on the music!"
Then Anna got up from her chair and began to plaintively mark the compas and do some braceo to express the emotion of my falseta. More bursts of laughter. "Focus!" I told myself.
Short version of the story: there were even more loud bursts of laughter and even some shouted conversation throughout the show at times just as loud as the music and the dancing. At one point I stopped the music and made eye contact with these people thinking they would get the message. Nope. Just more and more bursts of laughter and shouted conversation. They didn't care. I'm a pro and I shouldn't take it personally right? But I could only take so much of this.
Anna finished her solo. Edwin did his and at one point did a long and loud footwork section on stage-left but it had little effect on shutting them up. So after we did our fin de fiesta bulerias, we took our bows and walked off. Anna and Edwin usually walk off stage right. I usually exit stage left where my guitar case is located.
So I put away my instrument and walked past these obnoxious people trying not to look at them. I was prepared to let it go, but something occured that I knew would happen someday...
Just as I was walking by, this one Hispanic dude seated at the table jokingly says to his friends, "El guitarrista es como Paco de Lucia" and then he mockingly played some air flamenco guitar and shouted "Lelalalalalala!!!" a pathetic imitation of a rasgueado. Ugh. I made eye contact and nodded affirmatively as if to say "Yeah, I understood what he just said."
For a moment, I stood there astonished looking at these idiots wondering how they could continue to be so rude to me after acting the way they did during the show. Then an idea occurred to me.
I quickly went behind the stage, opened my case, pulled out my guitar and rushed back to the table and addressed the group "¿Quien es el Paco de Lucia aqui?" Silence. I seriously doubted it, but if they were going to mock me I was hoping there was someone in the group who could demonstrate for me how flamenco guitar should be played.
I addressed the rude Hispanic dude aka the Paco de Lucia wannabe, "¿Puedes tocar la guitarra?"
"No." and he put his hands up as if to apologize.
But I wasn't going to let him off that easy. I challenged him anyway and placed my guitar with a thud on the table in front of his face and demanded, "Toca! Toca la guitarra!"
He muttered apologetically, "No. No puedo tocar."
I removed my guitar and made a hand gesture of dismissal as if to say, "That's what I thought."
I addressed the rest of the crowd, "¿Hay españoles aqui?" which was kinda weak cuz I didn't know where I was going with this. Oh well.
They looked around at each other and replied with a chorus of "No."
It would've been cool to say, "Entonces, ¡son Uds gringos tambien!" Instead I just gave a gesture of dismissal to the whole crowd and I walked away. End of story.
Time for bed. Goodnight!
« Jen's first time at Citron April 24, 2006 | Main | Julia en Jerez April 26, 2006 »