Antonio Santaella workshop. April 8, 2006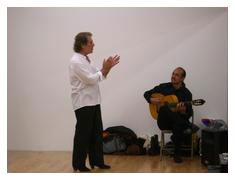 It's now mid-May 2006 and these pics are from early April. Obviously it took me a while to get these photos published. But I still got a lot of catching up to do so please continue to be patient.
Anyway, in early April, I had the pleasure of accompanying workshops taught by Antonio Santaella, Estela Velez's mentor and teacher. Being the busy guy I am (knock on wood), I wasn't able to attend all the sessions, but I still managed to catch on rather quickly and came up with the appropriate guitar accompaniment. The more challenging palo they worked on was taranto because the phrasing isn't always the same length. You gotta wait for the "fall" or resolution of the melody to know when to come in with the remates. Challenging stuff if you don't really know how to properly interact with cante.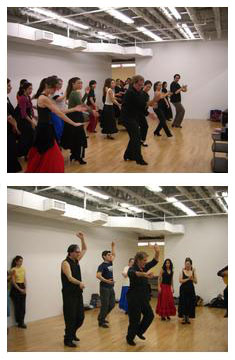 Then there was the next challenge of playing loud enough to be heard. I wasn't able to bring my sound system--actually come to think of it, I could have, but I just didn't feel like lugging it a couple of city blocks from the metro to the studio. Can't recall exactly, I think there was a possibility of rain too.
In any case, the dancers were very grateful to have some live guitar accompaniment and I was glad to be able to provide.
Estela writes:
Thanks to all who came out to Antonio's workshop and thank you Miguelito for playing for us! The workshops were a huge success. With most of the workshops maxed out, lots of people were left wanting more classes so they too could experience Antonio's teaching and dancing. We even had some people from as far as Pittsburgh attend the workshop! Everyone was amazed by Antonio's creativity, dancing, singing and most of all his VERY giving teaching style.
Antonio is one of the most amazing dancers I have come across, but what makes him even more special is the amazing teacher he is. He has done so much with flamenco in his life, he has toured all over the world, has performed with some of the most recognized flamenco figures and currently leads a very successful production company and flamenco dance ensemble, and when he teaches, all that experience comes right through. His focus is on the student and he wants each and everyone of the students to learn.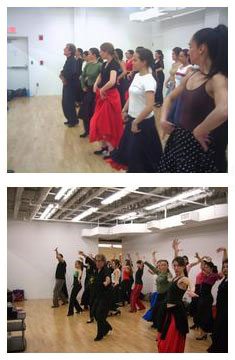 As a result, people see themselves transformed even in just one class with him. Every workshop was energetic and he outdanced each and every one of us every time. My thanks to all who attended the workshop and made it such a huge success and to Joy of Motion Dance Center for sponsoring the workshop. As everyone left the workshops the one question heard over and over again was "When is Anotnio coming back?"
Additoinal pics can be found at the Furia Flamenca website.
« Tourist for a day April 7, 2006 | Main | Antonio Santaella workshop. April 8, 2006 »