Andalucia April 6, 2006
It's 8:03am on Friday as I type these words. Yesterday, I pretty much spent the day at home updating my blog (catching up little by little) and sleeping in. I finally got out of the house in time to arrive at Andalucia early so I could rehearse briefly with dancer Pam de Ocampo before our show.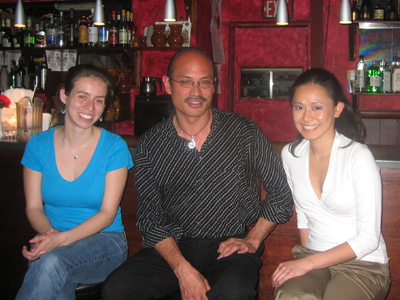 Sarah, Miguelito and Pam. (photo by Monica) April 6, 2006 9:53pm
It's been months since I last performed with Pam, but we did much better than I expected and she felt the same way too. For the first set she danced Sevillanas and seguiriyas. For the second, alegrias and bulerias.
Everything was straightforward except for the seguiriyas which has some tricky cortes--just when you think the llamada is over the compas actually continues. And other sections end without much warning.
Anyway, it was too much for me to memorize right before the show, so I thought myself, "Screw memorization! I'm just going to really pay extra close attention and respond to Pam's movements." and it worked. Warning: this method isn't always successful with all dancers. For example some dancers (inexperienced ones) will execute llamadas without giving them the extra emphasis they need to make them look like llamadas. I "messed up" right before her footwork solo. Well not really "messed up" cuz I "worked" the music to make it seem like it was all intentional. :-) I continued to play some slow compas while she slowly turned to face me and mouthed the words 'solo de pies' and I immediately faded out the music.
It's 8:27am now. I'm going to be productive and start a load of laundry and edit a bunch of photos from last week. Furia Flamenca was at Union Station and the Tidal Basin and I have like a 100 photos to look through! Later, I'm meeting a dancer friend for lunch--she just quit her day job and is joining me in the bohemian life for a little while, yay! Then I have a rehearsal with Ginette Perea right before our gig at Cabanas tonight (the other dancer will be Shahram Tehranian).
This weekend (Saturday and Sunday), I'm performing with Furia Flamenca at the Jack Guidone Theater. AND as a ballroom dance student, I've gotta go see the new movie Take the Lead which premieres today. Sometime this weekend, I gotta squeeze that into my schedule. Ciao for now!
« Wednesday with Miguelito April 5, 2006 | Main | Tourist for a day April 7, 2006 »