Latin Grammy Awards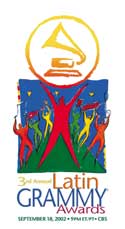 (Saturday August 31, 2002)

O

K, OK. So it's not as prestigious as being recognized in the Bienal. Still, I'm very pleased that there is a flamenco category included in the Latin Grammy Awards.

Previous winners:
Paris 87 by Camarón and Tomatito (2000)
Ciudad de las Ideas by Vicente Amigo (2001)


This year's nominees for "Best Flamenco Album"

Sonsonete
Remedios Amaya



Arcángel
Arcángel



Corren Tiempos De Alegría
Diego El Cigala



Mucho Corazón
Martirio



Mis 70 Años con el Cante
Antonio Núñez "El Chocolate"

The 3rd Annual Latin Grammys is scheduled for September 18, 2002. It might be worth it to watch. You never know if there will be a flamenco performance included in the ceremony.
DC Flamenco Tourbus




(Wednesday August 28, 2002)

T

wo weeks ago, I spent the day in historic Fredericksburg, Virginia with relatives from out of town. We took one of those 90-minute bus rides that would stop at all the historic places and the tour guide would explain, in great detail, the historical significance of that place.

I thought to myself: "What it would be like, if years from now there was a DC Flamenco tourbus? If I was the tourguide, where would I go and what would I say about each place?"

I'm not going to bore you with a long history, for now. But what can I do, in the space of one article, is list all the tablaos that I've seen come and go over the years. What I mean by a tablao is a place with a show that has both flamenco dancers and a guitarist (and if we're lucky a cantaor, too).

Also, bear in mind that I've only been involved in the DC flamenco scene since 1991. (Fellow oldtimers feel free to help me fill in the gaps).

The bus tour would stop at each of these locations. A few still exist with some under a different name, but most of them have closed down for good.
El Caminante. Early 90's. Located near Dupont Circle. Guitarist Torcuato Zamora with various dancers including Tatiana Montenegro.
El Bosque. Late 90's. 50 Pigeon Hill Dr Sterling, Virginia. Guitarist Richard Marlow with dancer Joana del Río.
Paella. Mid 90's. Located on Capitol Hill. Guitarist Torcuato Zamora with various dancers including Sandra Bishop. Yours truly subbed here a few times. This was the first time I saw Torcuato using a foot-controlled lighting system for the show.
Villa de España (now a Korean restaurant)Mid 90's. Falls Church, VA. Guitarist Tom Stefanick with various dancers including Sandra Bishop and Susana Lorenzo.
Tuscana West. Still exists. Mid 90's. 1350 I St NW DC. Italian restaurant. Guitarist Michael Perez with dancers Ziva and Nelson Sitton. We performed here for a week sharing the evening with a Chicago-based Gipsy Kings cover band called Spanish Fly.
Havana Village Still exists. Mid 90's. 1834 Columbia Rd NW DC. Guitarist Torcuato Zamora and dancer Sara Candela. Later guitarist Michael Perez took over for Torcuato. This was my first regular tablao gig...ah the memories. Historic fact: Paco de Lucía came to hang out here once after one of his DC concerts.
Escándalo (now Uni: a sushi place) Mid 90's. 2122 P St NW DC. Guitarist Michael Perez with dancers Melisa Tomás and Edwin Aparicio. Melisa also sang rumba and a little bulerías at the end of the show.
Café Japone Still exists. Mid 90's. 2032 P St NW DC. Yeah, I know what you're thinking, "Flamenco in a Japanese restaurant?" What you don't know is that flamenco is really big in Japan. The owner Kenji likes flamenco so much, he decided to hire us and besides, it's his restaurant! Guitarist Michael Perez with dancers Melisa Tomás and Edwin Aparicio. Japone is down the street from the former Escándalo.
La Bodega (now Gua-rapo). Late 90's. 2039 Wilson Blvd Arlington, VA. I did a few shows with dancers Micaela Moreno and Edwin Aparicio in 1997. Later guitarist Tom Stefanick and dancer Joana del Río set up a weekly show. This was the first regular tablao show in Arlington. A few years later came the second regular tablao show in Shirlington (technically south Arlington) at Toro Tapas.
Royal Crescent Bar at the Watergate 2650 Virginia Ave, NW DC. Guitarist Torcuato Zamora with various dancers including Susana Lorenzo, Tatiana Montenegro and Susana Granada.
El Rincón Español Still exists. 1997-2001 1826 Columbia Rd NW DC. Guitarist Michael Perez with dancer Micaela Moreno. We alternated shows with guitarist Amilcar Cruz who played guitar solos. Historic first: I was the first to include the cajón in a DC tablao show here. In the summer of 1997, this was the flamenco hangout. It's a tiny place, and when all our flamenco friends packed the place we sure made a lot of noise! This place holds the record for the smallest tablao stage. Second place goes to El Bodegón. El Rincón Español was where I organized the first Unofficial Pre-Feria Party which has now become a tradition here in DC. The former owner Victoriano Martin recently opened a new restaurant called Sangría Café in the Woodner Apartments DC.
Mo'bay (now Meze) Late 90's. 2437 18th St NW DC. Carribean restaurant downstairs, lounge upstairs. Guitarist Richard Marlow with dancer Sara Candela. This was another popular hangout which was just around the corner from El Rincón Español. The owners later opened a new place, Cafe Citrón.
Barcelona (now Siam 815). Late 90's. 815 King St Alexandria, VA. Just down the street from the current Las Tapas, guitarist Torcuato Zamora accompanied various dancers including Micaela Moreno and Alma la Terremoto. Managed by Luis Ferrer, former guitarist of Andalucía restaurant. I don't think the owners of Costa del Sol weren't too thrilled that I was performing down the street at Barcelona the same week that I subbed at Costa del Sol.
Casablanca Still exists. Mid 90's. 1504 King St Alexandria VA. Morrocan cuisine. Guitarist Michael Perez with dancer Sara Candela. We alternated shows with the Middle-Eastern dancer. Yours truly was replaced by a CD here. After my show, I'd usually walk down the street to Costa del Sol (now Las Tapas) and catch the show by Paco de Málaga and Ana Martinez.
Andalucía of Bethesda Still exists. Guitarist Torcuato Zamora played solo guitar here regularly. Others who played here regularly include Luís Ferrer and Jesús Serrano. For a while, guitarist John Boulet and keyboardist Lenore Boulet performed interpretations of well-known flamenco compositions. Historic first: Lenore holds the honor of being the first flamenco pianist in the DC area to regularly perform in a local Spanish restaurant. They did feature tablao shows every now and then. Not to be confused with the Andalucía in Rockville which has featured a weekly flamenco show continously since 1997--the longest running show in DC since El Bodegón closed in 1997. Second place goes to Las Tapas which has featured flamenco since 1998 (although there was a 6 month hiatus when ownership changed hands in 2000).
Marbella (formerly Sevilla formerly Rio de Madrid among other names) Mid 90's. 4700 Eastern Ave, Baltimore, MD. Various guitarists worked there including Marija Temo, Henry Jova, Torcuato Zamora and yours truly. Many dancers have performed here. I had the privilege of playing for Edwin Aparicio's tablao debut here. (Right Edwin?) Javier Bustamante and Paco Moro were regular customers there who occasionally treated us to some cante.
El Bodegón (now Townhouse Tavern) 1637 R St NW DC. 1970's-1997. Very important historical place. I saw my first DC tablao show here in 1991. Guitarist Paco de Málaga with dancer Ana Martinez were performing that night. Many artists worked here such as Manolo Leiva, Carlos Ramos et al. They paved the way for us DC flamencos of today. Natalia Monteleón got her start here. Historic fact: Jorge Strunz of the group Strunz and Farah subbed here. I worked there on various occasions as a substitute guitarist with dancer Tatiana Montenegro. This place had the second smallest stage I've seen in a tablao, too bad for the dancer. But they did have a built in sound system, good for the guitarist. The last time I played there was in February 1997 with dancers Micaela Moreno and Edwin Aparicio. They closed down shortly afterwards. If you go there today, it's called the Townhouse Tavern. There are a few decorative relics left over from the Bodegón days: the bathroom doors have Spanish dancers painted on them. The neon sign that says "Flamenco Show" is still up after all these years. When I get rich, yeah right, I'm going to buy that neon sign for the DC Flamenco museum, yeah right. :)
Catalán West (now Finemundo) 1319 F St NW DC. Beautiful place. Beautiful dancers. This is only tablao in DC where I've seen as many as three or four dancers regularly featured in the same night accompanied by guitarist Torcuato Zamora. Closed in the Fall of 2001.
Bambule Still exists. 5225 Wisconsin Ave NW DC. Guitarist Ramin el Perso with dancers Shahram Tehranian and Anna Menendez. Nice place, good show...but still, business was slow.
I'd probably end the bus tour at the house of someone like Torcuato Zamora, with his permission of course. He's been involved in the DC Flamenco scene probably before I was even born! The stories he could tell!