Hola from Pennsylvania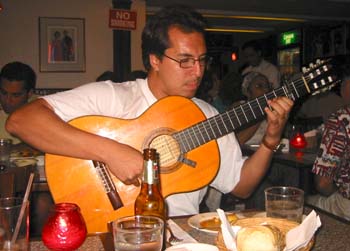 (Monday July 30, 2001)

I

can only do so much to promote flamenco in Washington, DC. But I especially enjoy meeting fellow flamencos, learning what they are looking for and being able to personally recommend people and places to go in the Washington DC area.

Last Saturday, between my shows with dancer Shahram Tehranian at Rincón Español in Adams-Morgan, I met guitarist Jon Banuelos (pictured left). Originally from Tucson, Arizona but now living in Harrisburg, Pennsylvania, Jon considers himself a latin jazz musician who's just starting to learn about flamenco. He writes:

"Hey this is jon from last night at rincón español, you both put on a great show and I was so glad to meet someone who is open and wanting to spread the music that is flamenco. I was really impressed with your openess and it made my first night in D.C. totally cool. Thanks man and keep up the good work, and I will be letting you know about the flamencos in Pennsylvania. Buena Suerte and have an awsome rest of the summer"

Thanks Jon. I get occasional email from Pennsylvania asking about local events. Hopefully he can give me some information soon.

Way to spend a beautiful summer day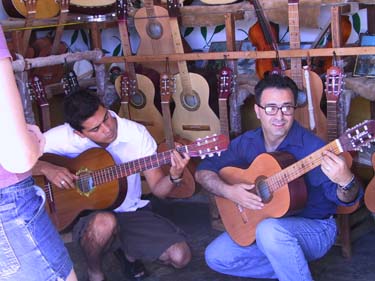 (Monday July 23, 2001) I had an especially good flamenco weekend, but you, my devoted readers, read about my weekends on this website all the time. For a change, I'll let one of my online flamenco friends tell you about he spent his Saturday. Omid Maleki (pictured above, on the right) from San Diego, California writes:
"Today, I, along with Julio and some other friends, drove down to beautiful Puerto Nuevo, Mexico for fun and to enjoy some live mariachi music.
After devouring many Mexican lobsters while surrounded by mariachis, we found a guitar shop across the restaurant. We entered the shop and tried different guitars.
While Julio and I were playing different flamenco rhythms, a group of Mariachis, who were passing by, heard and stared at us from outside of the shop. Suddenly, one of the mariachis began to play Soleares while singing, 'Ay ay ay...'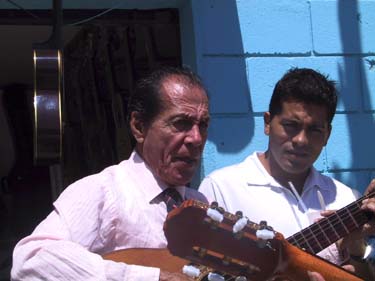 We were so surprised that this gentleman knew how to play flamenco and accompany himself with cante jondo. This guy earns his living by playing mariachi guitar from day to night in the streets of Puerto Nuevo.
It is a tough way of making a living for a man in his age, but I hope he enjoys every moment of it. Anyway, the mariachi gentleman picked out one of the good guitars for me, which I purchased.
Thereafter, we went to the beach, played flamenco and danced the day away."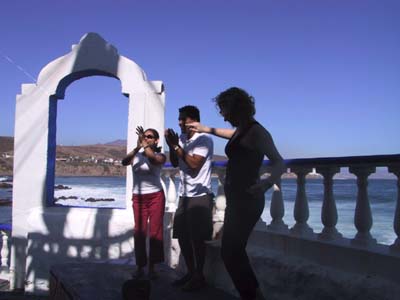 Thanks Omid. It's wonderful to hear that despite your devotion to flamenco, you keep yourself open to appreciate the beauty of other art forms, such as mariachi.
While we're on the subject, take a moment to learn more about mariachi.
Flamenco blues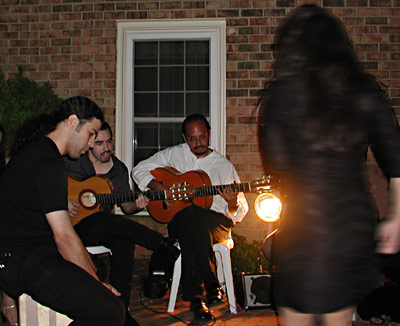 (Tuesday July 17, 2001)

L

ast Friday, my dancer friend Sandra Bishop threw a party at her house in Potomac, Maryland. As usual, many of the guests were performers themselves including Veronique "Nika" Tran who presented a modern dance piece, and Raven who performed a Middle Eastern dance.

Much later that evening, dancer/musician Jason Vera y Aragón and I commandeered a ping-pong table from the basement and brought it out to the backyard for a tablao (flamenco dance floor). As we all settled in, Jason began playing compás por bulerías on the cajón, guitarist Richard Marlow and I joined in and the flamenco portion of the party began...

Pictured from the left are Jason Vera y Aragón, Richard Marlow, yours truly Miguelito and dancer Marta Chico Martín. Photo courtesy of "Curtis Blues," a web designer and an awesome harmonica bluesman. We actually ended the evening playing the blues with Curtis.

(Come to think of it, flamenco is a sort of blues, an artistic outlet for an oppressed people, for the gypsies of Andalucía. What do you think? Feel free to post your thoughts about this topic on my message board.)
---
When I first arrived to the DC area ten years ago, Sandra Bishop and I became flamenco buddies--perhaps flamenco "junkies" is more appropriate considering that once we jammed on flamenco rhythms for seven hours straight!

What's she up to now? Sandra writes, "...Just working on badtv- my weekly cable show in Manhattan [New York]. It plays Tuesdays at Midnight on channel 67 or 16. We'll have to get some Flamenco on. Also, I have to work on getting my website up- www.badtv.com"

Las Tapas adds a Wednesday night show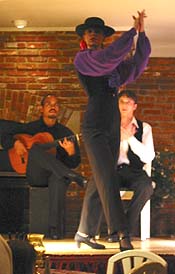 (Thursday July 12, 2001) In 1996, I used to perform every Friday with dancer Sara Candela at Casablanca restaurant in Old Town Alexandria, Virginia. And after my show, I'd walk down the street to Costa del Sol (now Las Tapas) to see a show by guitarist Paco de Málaga and dancer Ana Martinez. For me it was the perfect way to end the evening.
The show at Costa del Sol was eventually cancelled until 1998 when the owners decided to start having shows again, this time on Thursday nights with guitarist Richard Marlow and a selection of local dancers.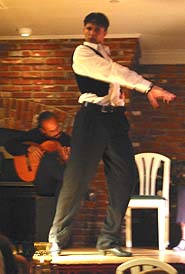 Last year they added a Tuesday night show which proved to be very popular.
This year, they will add a Wednesday night show starting July 18th featuring dancers Melisa Tomás and Aleksey Kulikov and yours truly on guitar.
What's unique about the show at Las Tapas is that the stage is raised high enough so that the audience has an almost complete view of the dancers. If you're lucky enough to get a table beside the stage, you'll get a closeup view of the dancers' footwork (see photo below).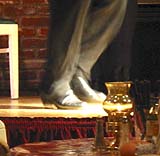 Las Tapas is located at 710 King St in Old Town Alexandria, Virginia. Flamenco shows on Tuesday, Wednesday and Thursday nights. Call (703)836-4000 to make your reservations.
My thanks to mi hermano, Kevin Pérez, for the photos.
[Editor's note: as of Summer 2003, the Wednesday night show has been cancelled. As of May 2005, the Wednesday night show has been brought back.]

Flamenco on the Fourth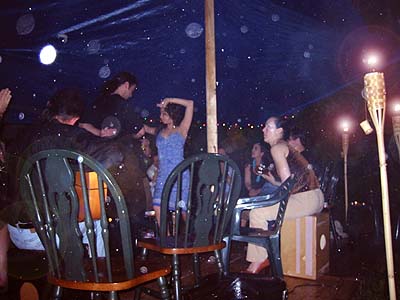 (Friday July 6, 2001)

T

raditionally, the United States of America celebrates the fourth of July as the day we declared ourselves independent from England in 1776. However, like most Americans, we use a holiday as an excuse for a party. And in the case of my friends, it would have to be a flamenco party!

If you were in the DC area on July 4th, you know that we had non-stop rain. But that didn't stop my friends from having a good time. See for yourself.

Letter from San Diego, California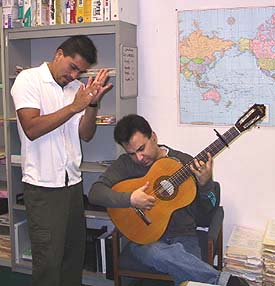 (Monday June 25, 2001) Pictured here is guitarist Omid Maleki from San Diego with his friend Julio. Omid writes:
"...This morning, I read your article entitled 'Practice, practice, practice' at your wonderful website. I thought I'd email you the enclosed picture to show you the way we practice Flamenco here in San Diego...
We, Julio & I, work as paralegals at a law firm practicing civil litigation and bankruptcy. Every weekday, we show up at work at 5:00 A.M.--that is right, at 5:00 A.M.--and we practice until 8:00 A.M.. We, also, practice during our 30-minute break--and even when our supervising attorneys are at court hearings. (We are bad boys.)
The attorneys at work don't seem to mind it at all as long as we get the work done--and we always get the work done. In fact, one of the attorneys at work has started listening to Flamenco music and attending Flamenco shows here in San Diego. The popular maxim has it that 'Business and pleasure do not mix,' but not where we work.
In conclusion, we love your website all the way over here in San Diego; keep up doing the good job."
Thanks Omid. Unless you're preparing to become concert performers, I'm not advocating practicing three or more hours a day as they do--diligent daily concentrated practice for any amount of time however short is enough. But if you're having a good time anyway, practice to your heart's content.