The Flamencos of Virginia Beach, Virginia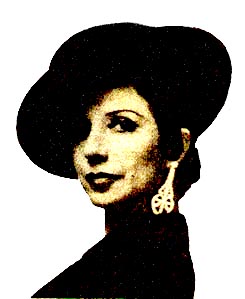 (Monday June 4, 2001)

M

embers of the DC Flamenco community have performed there, but Virginia Beach does have its own flamenco community, and this weekend you can see for yourself:

On Saturday June 9, 12:30pm at the Multicultural Festival World Bazaar 2001 (in Virginia Beach), dancers Mariquita (pictured right) and Vicky Flores will be performing with North Carolina-based flamenco guitarist Andy Blackard.

According to Vicky:
"We will be performing for the Multi-cultural Alliance in conjunction with El Rincón de España social club on June 9th on an open stage by the beach. It will be a performance of popular, regional and classical Spanish dance as well as flamenco. Directed and choreographed by myself and Mariquita Flores, my mom.

You can't miss the stage. It's at the base of 24th street right at the beach. If you take route 264 to the ocean front and keep going until you get to the end then turn left, go two blocks down to 24th street and there it is."

A complete festival schedule is available here. For those of you who can't make it, see what you're missing through this live cam of the beach.

[Editor's note: the photo of Mariquita Flores is old, but it's the only one I had in my archives. Hopefully, Vicky Flores will have some fresh photos from the Festival that I can use for the next time.]

Meanwhile, eighteen miles away, dancers Gloria de Jerez and José de Guadalupe will be performing at the Harborfest in Norfolk, Virginia. José writes:

"Gloria and I will be performing at this year's 25th Anniversary of Norfolk, Virgnia's Harborfest. We will be performing at the 'La Fiesta Stage' Friday June 8th at 6:30pm, Saturday, June 9th at 12:30pm and 4:30pm and Sunday, June 10th at 12:30pm and 3:30pm. The peformances on Friday, June 8th at 6:30pm, Saturday, June 9th at 4:30pm and Sunday, June 10th at 3:30 pm are in conjunction with Spectrum. A non-profit organization for abused children. The founder of Spectrum, has created a marionette of Gloria de Jerez and will be performing alongside her for one dance..."

Further details the Harborfest website at www.festeventsva.org/festevents/harborfest.htm

Gloria's website is at www.angelfire.com/va2/gloriadejerez/.

[Editor's note: I had the pleasure of meeting José de Guadalupe at this year's DC Feria. He also contributed photos for my DC Fera photo gallery. Thanks José!]

It's not the place...it's the people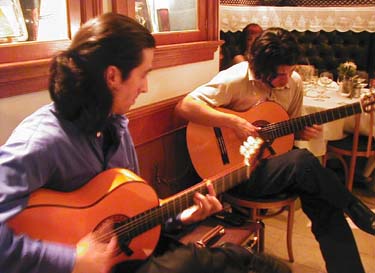 (Saturday June 2, 2001)

I

t was the first Friday night that the Taberna del Alabardero restaurant (202-429-2200) featured live music with guitarists Ramin el Perso and Amilcar Cruz.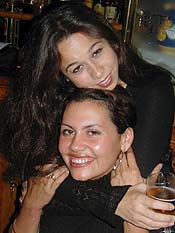 Taberna is a very classy place with exquisite food and a very attentive staff. But what really made the evening special was the intimate gathering of friends--including a few who came after finishing their own shows at Bambulé and Catalán.

Pictured to the right are my dancer friends Marta Chico Martín and Micaela Moreno.

I have a feeling this may become a regular flamenco hangout. Join us next Friday. The show starts at 10pm...but we'll probably get there late. Taberna is located at 1776 I St NW DC. Nearest metro is Farrugut West.

I don't do this for free...
(Thursday May 31, 2001) Actually I get paid very handsomely for my work with the DCFLAMENCO website--maybe not with money but with occasional messages which I receive such as this:
"...I wanted to write this note expressing our gratitude for all you have/are done/doing to keep us well informed on your website.

Your committment of time and energy to DC Flamenco is truly altruistic. The website is so integral to the spirit of 'community' among all of us Flamencos. It goes well beyond being merely information, referral and retrieval. So much more than that!

Through your initiative and creativity, we're all deriving great benefit. You are the key individual in this and the broader community who holds us all together. Where would we be without your resourcefullness and application? Yours is a great community service which you do so exceptionally well and with little thanks.

...I would like to thank you with this small token of appreciation letting you know how special we believe you are. You're doing a great job."
In this case, a generous check was sent along with this note. Check or no check, messages such as this one makes it all worth the hard work and effort. Thank you.

Postcard from Spain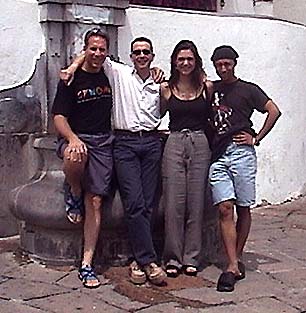 (Thursday May 31, 2001) Chicago-based flamenco Paul Fradin recently returned from Spain where he spent a few days with DC flamencos Anna Menendez and Edwin Aparicio.
In an email I received today, Edwin wrote:
"...i went with la tati last weekend to málaga with her company, with the production of Bernarda Alba. it was incredible. i was what she called 'her guest of honor' so i had the royal treatment. it was very nice to be behind the scene of such big production with the director and tati. if i would have taken pics i would have sent them to you, but i didn't. it was not allowed...
tati will be coming to the u.s. in august. the schedule will be from the 17 to the 26 of august."
I'll publish the details later. Thanks Edwin.
Pictured from the left is Paul with Antonio, Anna and Edwin somewhere in Córdoba. They send greetings to all their friends in DC. Paul writes:
"the picture was taken at some fountain in the juderia, the old part of town that used to be the jewish quarter. now its the cool, fashionable place to live. its quite beautiful and enchanting, with narrow winding streets, full of beautiful flowers hanging everywhere..."
According to current reports, weather in Córdoba is sunny and in the 90's. Nice.
(Photo courtesy of Paul Fradin)