"A Remarkable Lady"
Friday May 9, 2003 [Editor's note: Natalia Monteleón submitted this article last week. Due to my own very busy schedule I didn't get around to publishing it until today. My apologies for the delay.]
I just wanted to drop a line or two about [Arte Flamenco's] recent trip to Hampton, VA. We were the guests of the Rincón de España, a group of Spanish people living in the Virginia Beach, Newport News, Hampton area. Normally I don't bother the DC community with stories about our activities unless I think here is anything of particular special interest that people should know and this time there is...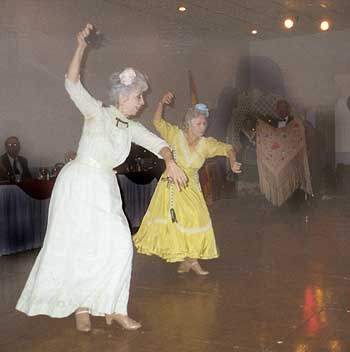 We shared the stage with the local group of Vicki Cooke and Mariquita Flores (photo from a previous performance). All of our preparatory work was done via phone and email as we never met each other until the day of the performance. I knew only to expect that their group would be doing classical and regional pieces, as well as light flamenco to recorded music, and that we would be doing flamenco. We made our arrangements without any problems and coordinated a program that looked to be just fine.
What I didn't know to expect was how absolutely delightful Vicki and her dancers are, how welcoming they were to us, and how they went out of their way for us. Just a detail: Vicki knew we would need a handful of chairs for the cuadro, and she hauled in about 10 beautiful typical andaluz ladder-back chairs—the very kind I like to bring to my own concerts. Her students are lovely well-trained dancers, who have a broad base in classical ballet as well as Spanish styles. Vicki was an absolute pleasure to work with, and I look forward to having the opportunity again. Our two groups meshed well and complemented each other, as we each offered something different from the other.
But I save the best for last: Mariquita Flores.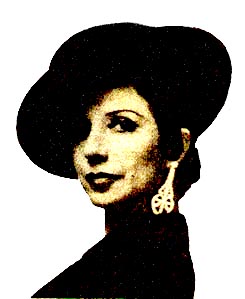 We arrive to the dressing rooms and here comes this little tiny person who reached up to my shoulder with her heels on. And of course she had heels on, along with a sexy dress, a feisty "flamenco" stance, and fire in her eyes. Oh and I forgot to mention that she is 86 years old (about to turn 87 in a few months). She and Vicki, her daughter, performed a piece from the Boda de Luís Alonso, and also joined us for bulerías. Need I even bother to mention that she brought the house down—standing ovation, and people screaming her name. She had a fire in her eye that would light up Broadway, she had a sauciness in her dance—she totally knows how to play with the audience, and as a dancer—well let's just say that most of us hope to just live to 86—let alone be able to dance like that! Edwin and I were back stage almost in tears watching her. (Oh and I need to mention that she used one of the steps Edwin is famous for—that of crossing the feet at the ankle and twisting the ankle down in its side). If nothing else, this weekend was a success for me, just because I got to meet this remarkable lady.
When all was said and done, I told her I would love to have the opportunity to perform with her again. She said "si Dio quiere," and followed it with "me parece que Dios va a querer." I hope she's right!
Special thanks also need to go to singer Cuquito and guitarist Richard Marlow who went the extra mile without even being asked. They sang and played sevillanas for Vicki's dancers, young girls who had never before had the opportunity to work with guitar (let alone cante!). One quick run through did it—and they were on stage.
—Natalia
Interview with Natalia Monteleón, director of Arte Flamenco
Tuesday April 22, 2003 As you may already know, Arte Flamenco is having their Spring Concert next week on Saturday May 3rd, 2003 at the Baltimore Museum of Art (410-396-6001). While they do perform throughout the year, the Spring Concert is their biggest annual production. Director Natalia Monteleón, extremely busy with rehearsals etc, was kind enough to grant me a brief interview.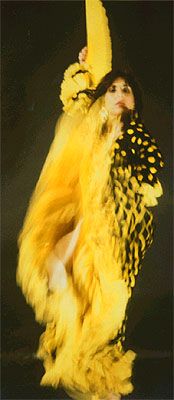 Miguelito: This is your sixth annual Spring Concert coming up. Each year, you strive to present new material, improve or rework old material and introduce up and coming local artists. What are the highlights of things we can expect to see this year?
Natalia: We've been working hard on the Guajira that La Tati taught at last Summer's workshop. We've staged it for a group of 5 women and 2 men, and it has acquired a personality and flavor that I think is distinctive to our group. In addition we have a stately and elegant rendition of sevillanas, choreographed by Edwin Aparicio, which is a bit more classical than one would normally expect from Arte Flamenco. I'm also especially proud to introduce a handful of new dancers, selected from my students. A number of years ago we had a great success with farruca danced by Marta, Karen and Aleksei. The torch has been passed to this new group - a hard act to follow I might add!
M: A good number of your students are frequently called upon to perform as soloists at tablaos in the DC area. What is it about your teaching method that prepares your students so well for performing onstage?
N: Well! (ahem, brag, brag). I am proud to see that my students, are everywhere all over town, and are first call in many cases. One thing I will tell you right off the bat, is that from the beginning I tried to provide performance venues, pushing them to do group numbers, then duets, then solos. There is nothing like reality to plunge you into flamenco. But more importantly, is that I stress compás, compás, compás. Listen is my favorite word to them. Listen to each other, know when you are straying from the group, adjust yourself to the others and train your ear to listen to the guitar. You have to be listening all the time as a dancer. Flamenco (as you and I know) is not a situation of setting a dance to a composed piece of music, and everything always the same. Every variable in the world can happen and you must be ready for that. I try to include guitar whenever possible - although since my studio is so far away, it's not always easy to get people out there. Another important theme I stress is that a dance does not have to be complicated and difficult to be effective. Some of my very best people started out dancing tanguillos for a solo, and would get great applause doing so. Those same people are out there as soloists doing Tientos, Solea, Seguiriya, and Alegrias now. But before they did so, they understood the basics, so they knew what they were doing.
And last, much as it may hurt sometimes, a teacher has to know when to let go. If they are just an imitation of the teacher--if they can't stand on their own--then what have you really taught them about flamenco? I like for them to see all the possible styles--they will eventually find their own. They were given the opportunity to take classes at my studio with Anna Menendez and Edwin Aparicio, and later Gloria de Jerez. Edwin in particular has given the company a boost with his boot camp training methods, and his uncanny rhythms. My students have gone to Spain and studied with top people and I'm proud to say that they had the foundation to understand what was going on, and to get a good experience from it.
M: All of us flamencos, no matter how accomplished, will be students of flamenco in one way or the other for the rest of our lives. What do you expect your students and performers to get out of this Spring Concert experience?
N: The great experience of working with a world-class singer! For the new people, it will be interesting for them to see how everything comes together with the cante, how it inspires one, and how we adjust to it. For those who already have that experience, just getting the opportunity once again is a thrill.
M: I am sure that at the time of this interview you are more concerned with the nitty-gritty details of the performance and the administrative side of the concert. When you step back and take a look from a broader perspective, how do you think this Spring Concert influences the course that flamenco will take in the DC area?
N: Wow Mike - I wish I could say that my concert will influence the DC scene! I always strive to do a show that is as authentic as possible, but at the same time provide a touch of "theater" to make it interesting to the audience. As you know we don't do regional, clasico español, theatrical Spanish dance, or any kind of fusion. However within the realm of flamenco there is plenty to present: the dark side, the light side, the elegant side, and the rough side. I think if our group has anything to "say" to the DC flamenco community - it is that!
I would love to say that we will interest a whole new crop aficionados and flamenco students who will fan out to all the teachers, however what with the top-notch companies that have come through this year, I think that job may have already been done!
M: Where do you think flamenco is going artistically and commercially?
N: There is SO much discussion of this lately, but I have to tell you that from my perspective (age), I've seen this discussion come and go over the years. In the 70's everyone was doing rumba, dancers in short little halter tops, etc. The guitarist I worked with refused to do rumba! To him that was ultra commercial. The "classic" flamenco I grew up with, I later realized was largely the invention of certain individuals like Antonio el bailarin, some of Jose Greco, Pilar Lopez, etc. I'm sure that in their day, to some they were considered non-puro and very theatrical, however they raised artistic standards and introduced a lot of the material we do today. Did you know that martinete as a dance with seguiriya rhythm was purely the invention of Antonio? So the story continues, and the argument goes on. I see some modern fusion stuff that is just plain stupid. Fusion for fusion's sake - why? Modern dance technique just to show that you can - so what - there are Martha Graham-trained people who can do it better! It's OK to include a cajon, flute, saxophone or viola, - but castanets are unspeakable! What's going on here? I think it's fine to take risks, be daring, add a touch of something out of the ordinary if it's done in the spirit of flamenco. An undefinable spirit, that is seen differently through different eyes. What goes around comes around - good art will survive all this!
M: If you could influence the direction flamenco will take, where would you want it to go?
N: Well - I think I just answered that above. But just to recap. I love flamenco puro, I love to see Farruquito with his 3 generations of art stirring in his little 18-year-old frame. But when new ideas are added and are done well, that's fine too. Just please don't take the guts out of flamenco. Don't sacrifice duende for technique.
M: Why did you choose to present your Spring Concert at the Baltimore Museum of Art (BMA)? How can one get tickets for this concert?
N: The BMA theater is a perfect venue for flamenco, intimate and warm. The museum, architecturally both modern and classical at the same time, is situated in a wooded park near Johns Hopkins University in a lovely part of the city. I performed there a few times years ago, with Torcuato, and with Manolo Leiva (at different times of course). I'm originally from Baltimore, and so is Anna Menendez...maybe we've decided to come home!
It may be a little out of the way for some people, but it is well worth the drive, lovely location, lovely museum, restaurants and clubs nearby. Everything is easier to get to in Baltimore. Tickets are available from the BMA. (410)396-6001 www.artbma.org
Summer Courses for Guitarists
DC-based guitarist Jim Evans was kind enough to put together this guide about learning flamenco guitar in Spain. Thanks Jim!

Sunday April 13, 2003 Four summers over the past five years I have had the opportunity to go to Spain to study flamenco guitar. If anyone else is interested in doing the same here are a few suggestions of what you can do.
Festival de Córdoba
In July, there is Festival de Córdoba which is guitar festival featuring workshops in jazz, classical and flamenco. Last summer's festival included there was a workshop in jazz improvisation by jazz guitarist Larry Coryell, workshops in classical composition by composer Leo Brouwer and flamenco classes led by Manolo Sanlúcar and featuring guitarists, José Antonio Rodriguez, Manolo Franco and Paco Serrano as teachers.
The students in the flamenco classes ranged from beginner to advanced professionals with classes four hours per day. The basic level class was taught by Paco Serrano. His beginner class was reputed to be one of the best classes available to teach the basics of flamenco guitar. There were experienced flamenco players who took his class. The intermediate and advanced level classes rotated between the three other teachers. Manolo Franco concentrated on teaching compás and falsetas for 12-count toques such as Soleá, Bulerías por Soleá and Alegrías and accompaniment for cante. José Antonio Rodriguez taught toques with free compás such as Malagueñas, Taranta and Granaínas along with many exercises for improving technique. Manolo Sanlúcar taught technique and talked about the philosophy of flamenco.
Each night at the festivals there were up to three concerts featuring noted musicians bands such as Manuel Barrueco, Larry Coryell, John Scofield and Manhattan Transfer. As for Flamenco concerts included performances by Vicente Amigo, Enrique Monente, Tomatito with Raimundo Amador, the Cristina Hoya Dance Company among others. I just learned that the 2003 festival will be happening from July 7 - July 19. The web site for the Córdoba festival is www.guitarracordoba.com
Gerardo Núñez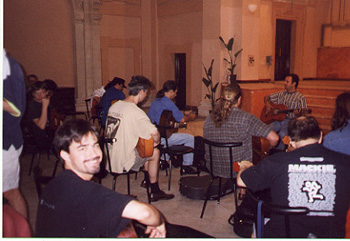 Each summer there is a course taught by guitarist Gerardo Núñez and his wife, Carmen Cortez, who teaches dance in Sanlúcar de Barremeda. It usually happens during the third week in July. Last summer, the guitar workshops were divided into intermediate and advanced levels, both taught by Gerardo. In the intermediate class he taught ways of playing compás and many of his falsettas for bulerías, soleá, tarantos, tangos, fandangos and bulerías por soleá as well as exercises for technique. In the advanced level he taught some of his major pieces from his recordings. In both levels he said he would teach us material that we wanted to learn from his recordings. There were also repetition classes in the evening where we reviewed what we had learned during the workshops.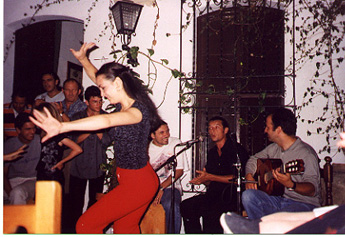 Each night of the workshop there were fiestas with dance and cante that ended during the early hours of the morning and a concert by Gerardo Núñez and his trio. It was a very fun week with little sleep. My friend Frank, who I met in Jerez and who first told me about his class told me that what this class offers the most is inspiration. This past summer Richard Marlow and Sara Jerez were also there.
I don't believe that Carmen and Gerardo have a website but their e-mail is cursoflamenco@retemail.es
Carmen de las Cuevas
This past August, I spent two weeks at Carmen de las Cuevas, a flamenco school in Granada. This was in probably one of the most beautiful places you could study flamenco. The school is located in the Albaycin neighborhood with a beautiful view of the Alhambra. Carmen de las Cuevas offers classes in guitar (all levels), dance, cante, and cajón. I was enrolled in the intermediate guitar class taught by a very fine young guitar player named Alfredo Mesa. His class focused on technique, Granaínas and compás and contemporary falsetas for bulerías. During the evenings many students of the school would go to a club called Guayana which featured flamenco many nights often accompanied by Alfredo. Carmen de las Cuevas has many other things to offer such as Spanish classes and excursions around Granada. They arranged accommodations in apartments in the Albaycin shared by other students. I shared an apartment with Erika Olander from Baltimore who was studying dance. It is a very nice place to spend a couple of weeks or a month in Spain. Check out Carmen de las Cuevas at www.carmencuevas.com
Simon el Rubio
Two summers ago I spent month in Jerez de la Frontera taking lessons from two very good teachers. They were not affiliated with any flamenco schools as such and gave lessons from their shops or studios. One teacher was Fernando Moreno who I was told was the most sought after guitarist in the Jerez area for accompanying cante. I took lessons from him at his shop each morning Monday through Thursday and he showed me mostly compás and falsetas of Jerez style bulerías. The lesson usually ended at about 11:00 in the morning when other students, guitarists, and singers showed up at his shop and by 12:00 it had turned into a party with lots of singing and guitar playing. I tried to get in contact Fernando before going to Spain that summer but it proved impossible. I received an e-mail from the director of the Centro de Baile de Jerez who told me to just show up at Fernando's shop. His shop is called Nagore and it s located on Calle Sevilla, 36 (Centro Comercial). It is probably best to ask someone at a hotel or an the street where his shop is.
Another teacher I with whom I studied in Jerez was Simon el Rubio who is primarily known as a dancer but he is also a fine guitar player and teacher. I took lessons from him at his studio at his house where he teaches mostly private dance and guitar classes. He is a very good teacher for studying dance accompaniment since he is a dancer he can show what the dancer is doing with the guitar. Simon has a cabin next to his house that he rents out to students. The summer I was in Jerez, his students ranged from a Canadian actress who was learning flamenco dance for a movie role to students of some of the crowded dance classes in Jerez who wanted to get additional lessons to guitar students. I think I was lucky the time I studied with Simon. At that time his wife and children were in London and Simon was game for going out nights with his guitar. We met many singers on the streets and in bars and got a look at the less visible flamenco scene in Jerez that is happening in August when most of the penas are closed. Simon can be contacted through www.flamencoshop.com/flamencodancer/simonelrubio.htm
El Carbonero
One of the most famous teachers in Jerez is El Carbonero. He has a studio that reminded me of a doctor's office. It had a waiting room with about eight people with guitars. El Carbonero sat behind a glass door and gave private instruction and then sent the student into the waiting room to practice while he gave a lesson to another. He would then call you back later to check your progress. At one time when I was in the waiting room I notice that he was looking at me through the glass door and he came out and told me how to change my hand position. So, he was aware of what was going on outside his glassed in area. I learned about El Carbonero from someone I met at the hotel where I was staying but I met some students who had arranged lessons with him before coming to Jerez. Perhaps you could make a web search to find out how to contact him if you want to arrange it before hand. [Editor's note: Carbonero now has a website at www.escuelaguitarracarbonero.com]
As for accommodation in Jerez, I stayed at the hostal San Andres which caters to many students coming to Jerez to study flamenco and they offered me a special monthly rate. There is a roof deck where you can practice. Many students from the Centro de Baile de Jerez, which is the Spain's center for the Spanish Dance Society, stay there so there was opportunity to practice with dancers. You can find the number for Hostal San Andres in the travel guide, Let's Go Spain. [Editor's note: the number is (956)34-09-83.]
Fundación Cristina Heeren
Four years ago during July when I attended a class in Sevilla at the Fundación Cristina Heeren, which is a school that has classes in flamenco dance and guitar. The summer class for guitar lasted the entire month with two hours of guitar class in the morning and two hours in the afternoon. At the time that I was there were five students in the guitar class. The guitar teacher was Eduardo Rebollar who I have heard is still teaching there. Eduardo is a very versatile teacher. He taught compás and traditional, contemporary and original falsetas for Bulerías, Soleá, Alegrías, Tarantos, Fandangos, Seguiriyas, Cañas and Verdiales.
There were also Spanish language classes, classes about the history of flamenco and classes on Spanish culture focusing primarily on Sevilla. There was also a nine month program from October to May. You can check out their website which is www.flamencoheeren.com to see what they are offering now. In Córdoba, Manolo Franco told me that he teaches a month one course at Cristina Heeren but I am not sure when.
One nice thing about the Fundacion Cristina Heeren is that it is located around the corner from La Carbonería, a local bar where there is flamenco almost nightly. This was an underground club in the days of Franco when such places were outlawed. Someone told me that Camarón de la Isla sang there after concerts in Sevilla. La Carbonería has a nice outdoor patio which is nice for sipping tinto veranos on a warm summer night. In addition to flamenco there were other cultural events. When I was there, there were show by Cuban bands as part of cultural exchange between Spain and Cuba.
---
There is a monthly publication called the Giraldillo which lists al of the cultural events that are happening in Andalucia. One summer in August I spent three weeks in Sevilla. Each weekend I traveled to a different part of Andalucía to see flamenco concerts and festivals which I learned about from El Giraldillo. Many of these festivals featured some fo the great figures in flamenco. There was a concert in Jerez de la Frontera by Chano Lobato accompanied by Fernando Moreno, my future teacher. The next weekend there was there was a show in Estepona, a beach town on the Mediterranean, which featured Tomatito, Potito, Carmen Linares and José Menese. The following weekend there was a cante festival in Ronda, a beautiful medieval town which is situated on the top of a hill. The festival included Aurora Vargas, José Merce, among others with guitar accompaniment by Moraíto Chico and Niño de Pura. The only place I could find a copy of El Giraldillo was at the tourist office in Sevilla next to the Alcazar. There is a website www.elgiraldillo.es
Summer is just around the corner. If you are think of venturing to Spain to study guitar, I hope this gives you some suggestions.
-Jim Evans
A Weekend in Virginia Beach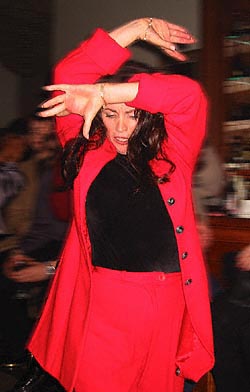 Sunday March 2, 2003 I had to break a couple of commitments at the last minute to go down to Virginia Beach last weekend to rehearse and perform with Gloria de Jerez and her group Flamenco Vision, but it was definitely worth it!
One of the guitarists who was originally hired, Jesús Serrano, injured one of his hands, and Gloria de Jerez needed a sub and fast! Guitarist Henry Jova immediately called me since we had worked together many times in the past. I couldn't turn down this opportunity, so I made a few phone calls, found a sub for one gig and reluctantly cancelled everything else. Next thing I knew I was driving down to Virginia Beach with Henry. We arrived late Thursday (Feb 20th) and checked into our hotel, grabbed a quick bite and went straight to bed--we had to be ready for a 9:30am rehearsal the next day.
Over the next two days (Friday and Saturday Feb 21-22), us guitarists had to memorize the sequence of three choreographies and the accompanying letras, two rumbas (one with saxophone and the other with cante). I won't go into great detail about the rehearsal process--I'll just say that it was a lot of work but we had such a great group of professionals: Sara Candela, Alejandro Galdón, Chayito Champion, Rosana Dion, Gloria de Jerez and Henry Jova all of whom left their egos at the door so we could focus on the task at hand.
The day of the show (Sunday Feb 23rd) arrived and we were all relieved and the same time filled with anticipation. The theatre was in the Virginia Contemporary Art Center in Virginia Beach. There were two matinees, one at 2pm and the other at 4:30pm. The first half of the program featured dances by Gloria de Jerez, members of her company and students--all to prerecorded music--I didn't get to watch most of it, so I won't comment on it here.
The second half of the program featured performances with live music by guitarists Henry Jova and yours truly with flamenco singer Chayito Champion (who by the way is an absolute joy to work with--email me if you want her contact info.)
First was a soleá by dancer Sara Candela. I had performed this soleá with Sara previously at Las Tapas but this was the first time we performed this choreography with a singer. In some ways it's easier with a singer--you don't have to come up with falsetas that may sound beautiful but fall short of replacing cante. For someone like me who rarely plays for a singer, finally having one is a real treat to be savored--however it was a challenge for me to concentrate, support the cante and baile, musically "mesh" with the fellow guitarist, oh...and also keep the compás! :) In the middle of the choreography, Sara rhythmically transforms the soleá to soleá por bulerías. Soon thereafter Chayito begins a letra accompanied by palmas and muted guitar--a nice change of musical texture. The guitars enter again for the escobilla and the dance climaxes por bulerías.
Next on the program was a rumba composed by Montreal-based saxophonist Alejandro Galdón--incidentally Gloria de Jerez's brother. Harmonically straightforward, it was pure pleasure to be able to relax and enjoy accompanying Alejandro's melodic musical hills and valleys the end of which everyone joined in singing--reminding me of the group Papa Levante.
San Antonio, Texas-based flamenco singer Chayito keeps to the same compás for her "solo." A simple rumba full of aire--at one point she gets up out of her chair and walks downstage toward the audience to do her rendition of that Papa Levante letra that we all have heard, with that familiar tongue-twisting chorus of "toma que toma..."
Guess what's next? More rumba. Just when you've had enough, Montreal-based dancer Rosana Dion enters immediately with footwork rapidly bringing up the tempo and dramatically stops. The saxophone begins a slow unaccompanied melody as Rosana interprets through movement. As she comes to a close, the guitars announce the compás of tangos. Then enters Chayito who sings a few letras alternating with Rosana's footwork sections the last of which is accompanied only by palmas and muted guitars as she plays with the compás. Rosana builds up to a climax at which point Chayito quickly brings up the tempo with a fast rumba.
Each number in this second half deserves to be a featured part of any program, but something especially memorable happened during Gloria de Jerez's alegrías that put all of us to the test as performers--read on. Enter the saxophone unaccompanied. After a few moments, Gloria enters walking the "Spanish" walk--an easygoing stride but a proud upperbody expressing her sense of pride and confidence. As the melody comes to a close, Chayito enters with an unaccompanied heart-warming letra reminding me of singer Mayte Martín. As it comes to a close, the guitars enter setting the tempo for the alegrías. Chayito sings a few letras alternating with Gloria's footwork sections. During the final footwork section we heard an unusual-sounding "thump"--still in compás mind you but the quality was different. As Gloria moved on she had a limp--the kind of limp that you get when one of your heels break off. Without losing a beat Gloria proceeded offstage giving us a quick wink as if to say "I'll be right back, play something!" And "play" we did! Chayito jumped in with a letra or two and at one point got up to pick up the broken heel, showing it proudly to the audience and tossing it aside. Moments later, Gloria re-enters wearing new shoes and is welcomed by cheers from the audience. At the end of the dance and in a way the end of the show, Gloria dramatically stops mid-compás, the music and palmas also stopping, the lights dim during the brief moment of suspension as she once again slowly walks the Spanish walk to a spotlighted secion of the stage, throws up her arms as the music and palmas accent the final beat of the compás, lights fade to black. End of show.
The program:
Guajiras--baile y coregrafía: Gloria de Jerez
Fandangos (students of Gloria de Jerez)--baile: Sara (age 17), Estafania (age 15), Graciela (age 14) coregrafía: Gloria de Jerez
Tarantos--baile: Quiana La Gitana coreografía: Juan Porvillo
Tanguillos--baile: Cecilia Rincón coreografía: Gloria de Jerez & Cecilia Rincón
Sevillanas--baile: José de Guadalupe & Gloria de Jerez coreografía: popular/Gloria de Jerez
Alegrías--baile: José de Guadalupe coreografía: Gloria de Jerez
Bulerías de Jerez--baile y coreografía: Gloria de Jerez
Sevillanas--baile: company y De'Anna, Chrystal, Maura, Sonam coreografía: popular/Gloria de Jerez
INTERMISSION
Soleá--baile y coreografía: Sara Candela
Rumba--Saxophone: Alejandro Galdón
Rumba--cante Chayito Champion
Tangos--baile y coreografía: Rosana Dion
Alegrías--baile y coreografía Gloria de Jerez
Fin de Fiesta por Bulerías
If I had a camera you'd see some pictures here too. Sorry. For more information about Gloria de Jerez, visit her website at www.flamenco-arts.org
Flamenco in Granada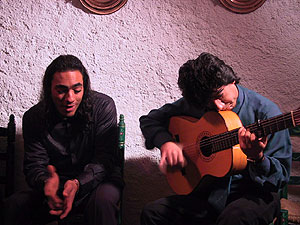 Monday February 10, 2003 It's been a couple of weeks since I added some new content here. Fortunately, my friend Omid Maleki has come to save the day with some photos that will give you some idea of what flamenco is like in a cave in Granada. I have a feeling these may inspire you to start planning that trip to Spain you've been putting off for so long! :)
(Long-time visitors to this website may remember Omid's photos from July 2001.)


3rd Annual Flamenco Festival DC at Lisner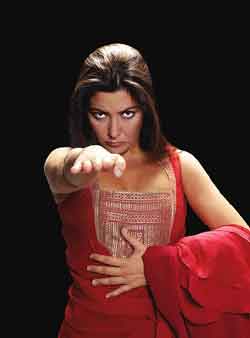 Tuesday January 14, 2003 Last night at Cafe Citron, I was talking to a friend from Richmond who hadn't been to the DC area for a short while. He said, "I heard there will be a festival on February 7th."
I casually replied, "Yeah, but that's only one of several dates in the festival."
But I was thinking to myself, "Uh-oh. How can this person, a regular visitor to the DC Flamenco website, not be aware of all the shows in this festival?"
Anyway, I promised him I would put the schedule on my front page for the benefit of those who are not aware of these events that absolutely must not be missed!
If you haven't done so already, buy your tickets now.
Date
Performer
8pm Tuesday
January 28, 2003
Ballet Flamenco Sara Baras
8pm Wednesday
January 29 2003
Ballet Flamenco Sara Baras
8pm Friday
January 31, 2003
Farruquito & Juana Amaya
8pm Saturday
February 1, 2003
Farruquito & Juana Amaya
8pm Friday
February 7, 2003
Tomatito
All shows will take place at Lisner Auditorium, located at the intersection of 21st St and H St NW DC. The nearest metro is Foggy Bottom on the Orange and Blue lines. For more information, visit the Lisner Auditorium website.
On February 1st, the same night that Farruquito and Juana Amaya are at Lisner, the Paco Peña Flamenco Dance Company is scheduled to perform at Robert E. Parrilla Performing Arts Center at Montgomery College in Rockville, Maryland.
There's a lot going on in a short amount of time. Take advantage of this opportunity to enjoy performances by some of the world's best.
Happy Birthday DC Flamenco!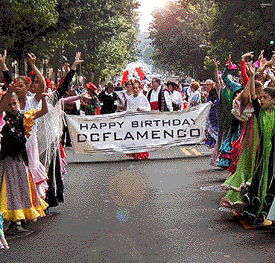 Friday January 10, 2003 This website was first published on January 10, 1996 which makes today its 7th anniversary! How many flamenco websites can you think of that have been around that long?
So why did I start this website in the first place?
A lot of it has to do with how the DC flamenco community works. You got dancers and dance companies all striving to get their name known to the general public for the purpose of advancing their career in the performing arts, recruiting students etc etc. Each company might have one or two major performances a year where they'll actually pay for premium publicity in the media. But the rest of the time, the "little" shows get little if no publicity at all.
Flamenco guitarists (the real ones) are very rare in DC. If you're lucky enough to be one, it's very likely you will be the guitarist for more than one dance company. I was one of those lucky ones back in 1996 and I found myself regularly rehearsing and performing with three companies (Danza del Río, Ziva's Spanish Dance Ensemble and Spanish Dance Society). Dancers generally stick to one company, whereas guitarists get around. So, when company X wanted to know what company Y was up to, they would naturally come to me because I knew what all the companies and dancers were working on because I played for everyone!
Being the central source of flamenco info for DC, I decided I needed to setup a webpage so that people can lookup the DC flamenco info instead of bugging me all the time. In 1996 I had an America Online (AOL) account and at the time they gave AOL members two megabytes of webspace. I started with one very plain webpage with a very short list of my own shows.
Seven years and four webhosting services later, the website has grown to more than 100 webpages with an average of about 170 visits daily. It was one of the first flamenco websites on the Internet and continues to be one of the best websites to regularly cover a local flamenco scene.
Where do we go from here?
Over the years, this website has raised awareness of flamenco in the DC area. It certainly has helped business for the local professionals--many clients probably found the initial contact info for local performers on this website. And it has helped many many prospective students find a teacher.
When people see the names of their teachers, or the name of their dance company mentioned on this website, they can tell their friends and family, "That's me!" or "I know that person." Most importantly they feel that they part of something, a "flamenco family." This "family" has always been here in DC. It's just that by using the technology of the Internet, I helped give it a stronger sense of community by providing a centralized source of information.

Now that I have the DC flamenco community's attention, my next long-range goal is to increase awareness of the history of the DC flamenco scene. Interviews with old-timer flamencos are in the works. Stay tuned for updates!

If you have some thoughts or suggestions on this topic, please let me know.

[Editor's note: You can help spread the word about the DC Flamenco website by buying and wearing a T-shirt like the one pictured above. The proceeds from the sales go towards paying for webhosting and related services for this website.]

[earlier articles][later articles][main index]